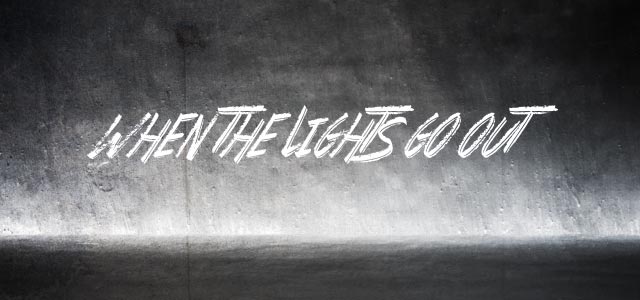 3. Shared experiences create a greater sense of community.
There is a shared dynamic when you go through something together.
Within minutes of the lights going out, a tangible sense of community spread through the congregation. An anticipation of "What's going to happen next?" and "How can I help?" broke out everywhere.
More people were smiling, the jokes seemed funnier, the atmosphere was great! It was kind of like a huge camp out.
Except I never much liked camping.
I heard people saying, "We should do this more often." I'm not sure I'm there yet. Some thought we had planned it all out as an illustration of the message topic—"The parable of the shrewd manager and the power of money."
We are not that smart! But it was fun for a day.
4. The power and presence of Jesus doesn't depend on smoke, moving lights and high-definition screens.
This was my biggest takeaway.
As I listened to the people sing with all their might, and watched them respond to God's word without some of the cool tools He lets us use on most weekends, I again realized that it's not about us.
It's all about Him.
And He is not limited by a lack of anything.
The lights went out, but there was still plenty of power in the room.