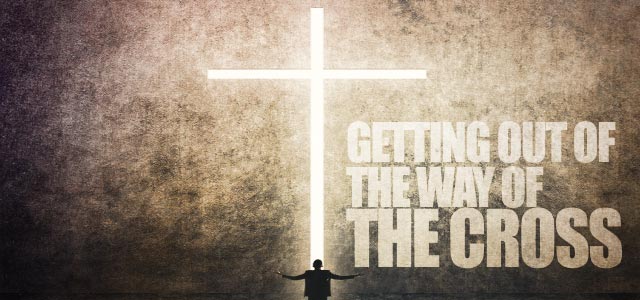 "I serve at the pleasure of the President." —The West Wing
Recently, I was setting up the stage at our church building for worship. I started thinking about how the front of a church came to be called "the stage." A stage implies a show, and a show implies personalities or stars. I'm not sure it's the best word to use, but I'll save that discussion for another time.
We have a cross at the back of our stage. Someone sent me a picture they took during worship, and it looked like the cross was coming out of the top of the drummer's head. The band was set up behind the communion table and in front of the cross (the cross is slightly above floor level).
Linda, my wife, was the one who pointed it out. She said it was strange to have the people who lead worship stand in front of a symbol of the One we worship. Instead of being a conduit for worship, we were putting ourselves in front visually.
At first, I was reluctant to change things around because the band was set up in a way that was best for sound and comfortable for the musicians. But it didn't take too long to realize Linda was right. I always talk about leading people into the throne room and getting out of the way. I always say it's not about me. Here was a chance to do something to make the point right up front.
We cleared a path on the stage, roughly eight feet wide, down the center, leading to the cross. The band was spread apart to each side of the stage, with the drums and bass over to the right, keys and lead guitar to the left.
I explained what we were doing to the band and they were more than willing to go with it. It gives us a chance to remember who we serve. It's a little inconvenient, but it's a small sacrifice we gladly make.
I get asked about it once in awhile, and when I explain that it's a tangible, simple way to show we honor Jesus, people get it. Everything we do or don't do says something about what we value. In this case, it's a tangible demonstration; it's not about us, it's about Him.
Being on a worship team is an awesome privilege. We're usually on a stage, but that doesn't make us stars. We're there to help lead our people into His presence. It takes more than good lighting, sound and musical skill. We serve at the pleasure of Jesus, under the authority of our leaders, with love, encouragement and compassion for those we lead. We're keeping an open lane.