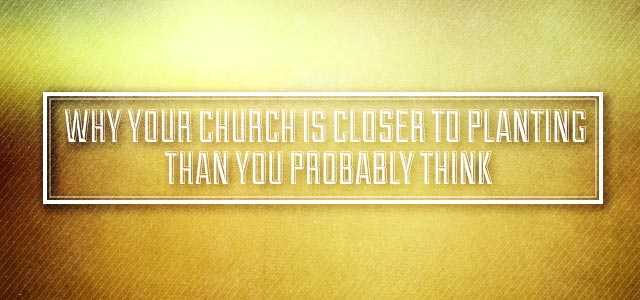 The new believers are then taught obedience in community with one another (i.e., small group). Finally, the small group is taught from the Bible what the church is and does. The new small group is then challenged with the question, "Is the Spirit leading you to unite as a local expression of the Body of Christ?" And, if so, such begins a wonderful journey of the team with the new church to raise up and equip elders—who will then equip the church for the work of the ministry.
Questions to Ask
If you are trying to lead your people to be involved in church planting (or maybe you still have not caught a vision for it yourself), then ask your people a few questions—considering the diagram:
1. Can you and two or three people from our church share the gospel with other people? Can the three of you set a 12-month goal—by the grace of the Lord—that you will work to see nine people (for example) come to follow Jesus (three new believers per team member)?
2. Can the three of you gather those new disciples into a small group whereby you will begin to teach them how to follow Jesus? Can each of you mentor these nine outside of the weekly group time (three new disciples per team member)?
3. Can you and your team model the Christian lifestyle before this new small group while leading them through an intentional study of God's word regarding what is the local church?
4. After studying through the Word about what is a local church and modeling individual and body life, can you and your team ask the small group if the Spirit is leading them to be a church?
5. If they decide to self-identify as a local church, then can you and your team begin working with them to raise up elders whom you and your team will begin to spend more time developing as leaders for this body?
Small Steps
Pastors, are your mechanics, teachers, stay-at-home moms, managers and college students sharing the gospel? Are your plumbers, servers and business owners teaching one another the Word and having fellowship in small groups (Sunday School, home fellowships, family groups, etc.)? If so, then your church is much closer to church planting than you probably think.
Whenever we remove much of the hype, quantitative expectations and North American cultural expressions of church planting, we come to recognize that church planting is not very glamorous. It involves small steps. It is about making disciples from out of the harvest and teaching them to obey all that Jesus commanded. If your people can do this, then by God's grace, your church can plant churches … many churches.
But if we cannot make disciples, gather them and teach them to obey, then we have a problem … a problem much deeper than believing that our church cannot be involved in church planting due to the lack of money, high-caliber leaders, excellent musicians, etc., etc., etc. …