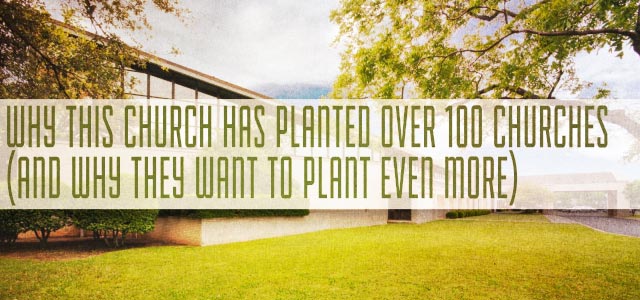 —Interview by Jessica Hanewinckel
After my conversion, I immediately was an impassioned evangelist. I think God wired me this way. In college, I really began to share the gospel with the guys I was partying with. Man, I felt like I was preaching the gospel, and then I would bring them to church, and they would hear about how they shouldn't go to parties and shouldn't have sex and shouldn't listen to secular music.
I couldn't get them to connect to churches. I started dreaming about what it would be like to plant my own church. I was a totally naïve, ignorant 20-something. I didn't know planting was a thing, right? I really didn't know anything about assessments, about coaching, training, residencies. Man, I just didn't have any framework for that.
I started stumbling onto books about church planting and reading them. I kind of had my eyes on Austin, on the Bay Area. Then, in the middle of all of that, I was asked if I would submit my résumé at Highland Village First Baptist Church.
I didn't want to be at a church in the Bible Belt, I certainly didn't want to be in Dallas. And I wanted to plant; I didn't want to go to an existing church. I thought it would be too bloody. I ended up becoming the pastor of Highland Village, now known as The Village Church.
My hope was to become a type of training and sending agency that was going to be open-handed with its resources in such a way that we were able to plant hundreds, if not thousands, of churches in our run here. I said, "OK, if I don't get to plant, then let's become kind of an outpost that trains up guys and plants with them."
We really started getting into the different networks that were out there, the different systems. It came down to who we thought was doing it best, and we were measuring that by the viability of the church three to five years after it was planted. That's how we found Acts 29.
The Village Church has planted more than 100 churches. Sometimes we'll measure granddaughter churches, and now we've got great-great-granddaughter churches that were planted by churches that we planted that planted churches that planted churches. At The Village and in Acts 29, the win isn't to plant a church. The win is to plant a church-planting church.
I think this is the way God has spread the fame of his name and the glory of the gospel since he poured out the Holy Spirit at Pentecost. The gospel spreads through people who plant churches that plant churches. I want to be right in the middle of what God is doing. When it's my turn to go home to glory, I'd much rather leave behind hundreds and hundreds of gospel-rich, Bible-believing, missionally engaging, passionately evangelizing, ferociously discipling churches than just one big church where I preached.
I so would rather give myself to that end than anything else on earth. The opportunity to take on significant work, what I believe is eternal work—and maybe even the best work—when it comes to gospel ministry in the planting of healthy disciple-making, Bible-preaching churches—man, I'd give myself to that all day. I don't think there's anything more important to give myself over to.