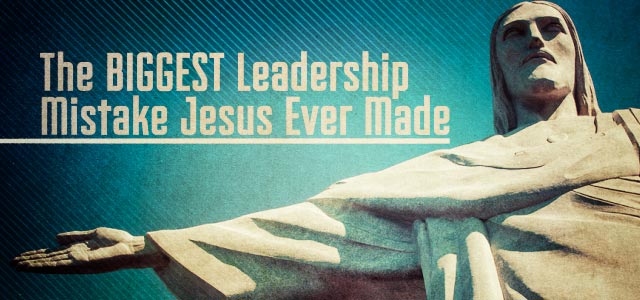 Jesus made one decision that seems like a major leadership mistake; he chose Judas as one of the key leaders in his organization. While Judas eventually plays a major role in Jesus' redemptive story, why make him a leader? Surely anyone in the outer circle of followers could play the role of traitor, why waste one of the most coveted seats in human history on a loser like Judas? Not only does Jesus appoint Judas to a leadership role, he makes him the treasurer. Jesus certainly has better candidates: Matthew is an accountant, Peter is a small business owner, Nathaniel is a man "of complete integrity" (John 1:45 NLT). Why did Jesus, knowing Judas' struggles with greed and honesty, give him oversight of the ministry's finances?
No competent leader with the inside knowledge Jesus had would do what Jesus did. We know that an inner circle must be loyal to the leader, and anyone who handles finances must have impeccable character. To purposely choose someone for the leadership team who is greedy, selfish and disloyal is both career and organizational suicide. In fact, we use Judas as an example of what to avoid when choosing leaders. A prominent pastor teaches that there is a Judas at every table and it is the role of the leader to weed him or her out. The unintentional message is, "Only a fool would lead like Jesus."
Obviously Jesus didn't make a mistake choosing Judas, so what can we learn from his example. I don't think the lesson is to make sure at least one member of your leadership team lacks integrity:
"I realize you have tons of experience and an impeccable track record, but what we're really looking for is an embezzling traitor."
The Apostle Paul is very clear about the ethical standard for leadership in the church.
So an elder must be a man whose life is above reproach. (1 Timothy 3:2 NIV)
Paul would have smacked Timothy upside the head if he appointed someone like Judas as an overseer in Ephesus, so why does Jesus choose Judas as a leader?
The Gospel writers are silent on Jesus' motivation, so we can only speculate on his reasoning.  I wonder if, in spite of Judas' character, Jesus sees potential in him. We know how the story ends, but maybe at the beginning Jesus loves Judas so much he gives him every opportunity to reach the potential God placed in him. Maybe Jesus knows that the best opportunity for Judas to overcome his character flaws is in a place of responsibility and trust. It seems that Jesus is willing, for a time, to subjugate the primacy of the mission to the development of the individual. In the end, Jesus' mission is accomplished, but not before he gives Judas every chance to change.
Rather than a cautionary tale on how not to lead, as we have inadvertently taken it, Jesus' selection and treatment of Judas give us a model for dealing with people who don't conform to the template of a successful leader. I see several implications in how we lead 2,000 years after Judas:
We Are in the People Business, Not the Mission Business
Over the past couple of decades, we have become enamored with vision, values and mission. The first thing every church planter does, after picking a cool church name, is write out their vision, core values and mission statement. They recruit leaders who will follow their vision, adhere to their values and accomplish their mission. While there are positive aspects to this approach, it can miss the main point of ministry; we are not called to accomplish a mission, we are called to feed sheep. Jesus drove this home to Peter the last time they were together:
A third time he asked him, "Simon son of John, do you love me?" Peter was hurt that Jesus asked the question a third time. He said, "Lord, you know everything. You know that I love you." Jesus said, "Then feed my sheep." (John 21:17 NLT)
In Jesus' economy, people don't accomplish just the mission, people are the mission.
We Develop More Than Recruit
Another interesting trend in the modern American church is the reliance on outside talent. We don't have the time or resources to develop local leaders, we have to find someone with experience who is ready to produce immediately. The mission is too important to wait for local people to grow into the job.