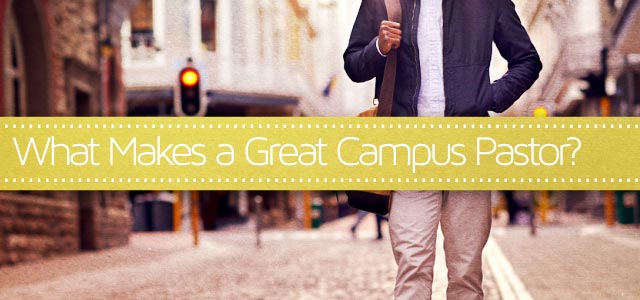 Leading in a multisite setting, I'm often asked by other church leaders, "What makes a great campus pastor a great campus pastor?" Oftentimes when a church is thinking about moving to a multisite model the last thing they're thinking about is who is going to be their next campus pastor. They're stuck on logistics and most just assume they'll stick an existing up and coming staff member on the next campus and hope for the best. That's great IF you have the right person on the team already, but this can also be a fatal flaw. Trust me, I know and I've lived it. So here are seven things I'm looking for when I'm looking for a campus pastor.
1. Relational Skills
They can influence people. They can influence people younger than themselves, they can influence their peers and they can influence people older than themselves. Influence comes through trust, and trust is given in the context of relationship. If they don't have the relational skills to build trust with the congregation, they'll never be able to influence the congregation to move forward in a particular direction.
 2. Communication
They're a good communicator. I'm not saying they have to be a good preacher, unless that's how you are planning on handling the weekend teaching in your multisite model. But they have to be an effective communicator on stage, in large groups, in smaller groups and one-on-one. A litmus test you can use to discover this is can they connect the mission/vision to funding? Can they talk about money from the stage and have people respond?
3. Lead Through Others
Great campus pastors don't just delegate tasks, they empower people. They don't do everything themselves, rather they get things done through other people. They know how to manage large multifaceted projects through robust teams and accomplish the stated goals. They know the team outperforms the individual every time.
4. Development
They don't just lead through relationship, they lead through development. In other words, people don't follow them just because they like them and enjoy them relationally but because they are developed into better leaders and better people by following them. They don't just attract talent, they develop talent.
5. Driven
They have a bias toward action. They are movement oriented and wake up every day thinking about moving things toward the vision.
6. They Deliver
They've already demonstrated the ability to deliver. They've built something from concept to completion; they're not a novice. They've already done what you want them to do. They know how to execute decisions and implement strategies.
 7. Culture
They don't just know the mission, vision and values of the church, but they live them out in their own lives. It's not that they can simply repeat these things, but they deeply understand them, leading by making decisions through the lens of the core and unique identity of the church.