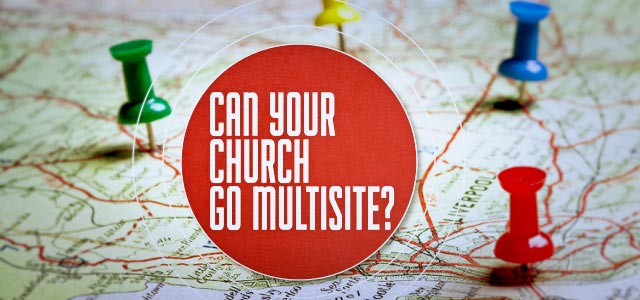 The question I'm asked the second most often is, "Could multisite work at my church?" (The question I'm asked most is what I think about legalized marijuana. Since I live in Colorado, I guess I'm the de facto expert on all things ganja.) While there is no one size fits all answer to whether multisite is the right choice for your church, there are some principles successful multisite churches have in common. Over the next couple of days, let me share three questions that help clarify if your church should consider multisite. Today we'll start with the first question:
How Healthy Is Your Church?
If your church isn't healthy then please don't export your disease. Some leaders believe the fallacy they can start a new site that won't have all the problems at the original site. If you're not healthy at one location you won't be healthy at two, trust me on this one.
So how do you know if your church is healthy? Here are some signs of health I always look for:
1. Is your church growing?
I know that not everything that grows is healthy (cancer grows faster than any other kind of cell), but growth is often one indicator of health. That's why every time a doctor sees a child they take their measurements. If a child isn't growing it could indicate a health issue. If your church isn't growing there may be a health issue as well.
If your church isn't growing, multisite is not your next move. Larry Osborne, pastor of North Coast Church, said a long time ago, "Multisite isn't an engine for growth, its a reaction to growth." In a non-growth environment it is essential to understand why you're not growing before you consider reproduction. It might be not enough parking, inadequate children's space or not enough room for adults. Or it might be something deeper. If it's a deeper issue then work on that before you consider multisite.
2. Are people finding their way back to God through your church?
Are you baptizing new believers? Are you regularly hearing stories of life transformation? If not then why would you want to reproduce? Without new believers, church growth is just church transfer. The challenge is to figure out why people aren't finding God through your church before you figure out how to expand.
(My friends Jon and Dave Ferguson have a great new book about Finding Your Way Back to God.)
3. Are you making disciples through your church?
When I ask pastors if their church is facilitating disciple making, I normally hear anecdotes, "You know Bob used to be a really bad sinner, but since coming to our church he sins a lot less." While anecdotes are great, they don't really answer the question of how effective your church is at making disciples. (I proposed a tool to find out how you're doing here.) If you aren't making disciples at one site, why would you want to not make disciples in multiple locations?
4. Are people excited about inviting their friends and family?
One of my favorite conversations on a weekend when I am preaching is when someone pulls me aside and says, "See that guy over there? His life is falling apart and I've been working on him for six months to get him to come to church. He finally came today, so don't blow it." As a preacher, I love that challenge. It says that people are engaged in introducing their friends to Jesus and they feel the church is a great place to facilitate that conversation.
If you aren't hearing stories regularly of people inviting neighbors, friends and co-workers to your church, multisite is going to be an uphill climb. If they don't invite their friends to your building, they aren't going to invite them to the middle school where you open a campus.
So is your church healthy enough to reproduce? Before you go down the road of multiplication, take time with your key leaders around the health of your church. If you are healthy enough (no church you attend can be completely healthy) then we can look at the motivation for going multisite.