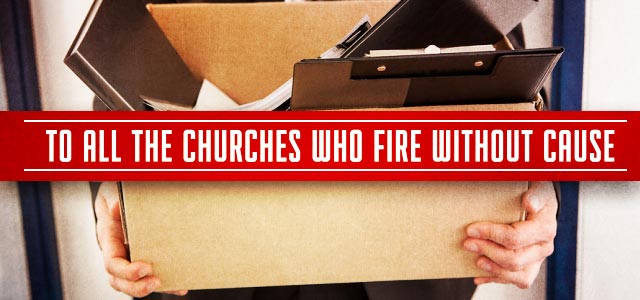 So it happened again last week. Another cool, growing megachurch told a friend he needs to find a new job because he is no longer a fit for their corporate chemistry. Even though they said he consistently hit his goals, and they had no complaints about the results he was achieving, they decided he wasn't the style leader they wanted to work with. So now he has to uproot his family from a church they love, leave friendships formed over years of ministry together, and find another place to work. The church he is leaving will likely employ a search firm to find someone whose chemistry they prefer who happens to be currently employed at another church. And the merry-go-round continues.
In case you haven't picked it up yet, this is going to be a rant. I am over the corporate practices so many American churches have adopted that run counter to basic biblical principles of leadership and Christian relationship. Here are my thoughts:
1. If you can't find a direct correlation between your HR practices and how Jesus treated his disciples, you need to change how you do HR.
2. Jesus never fired a disciple. He didn't fire Peter for mouthing off in front of Elijah and Moses, he didn't fire Thomas for doubting the outcome of the mission, and he didn't fire Philip for missing the point entirely. He didn't even fire Judas for betraying him. If Jesus didn't fire, we should be very cautious about how and why we fire.
3. Forcing someone to resign is the same as firing.
4. If the church fired (or forced the resignation of) your predecessor, they will fire you eventually. Trust me on this.
5. Being unwilling to work through relational messiness is a terrible excuse for firing someone. Peter and Paul had serious issues, but they worked it out.
6. Your mission is never more important than your staff; your staff is your mission. If you can't develop, love and care for your staff, how in the world are you going to develop, love and care for your congregation?
7. There are times when staff should be let go, but this should never come as a surprise. Unless there is a major moral issue, firing should always follow multiple conversations and a well-defined growth plan.
8. A revolving door of staff members is indicative of a deeper problem, and hiring more staff isn't going to solve the problem. To quote a friend, "How long are you going to work on what's not the problem before you work on what is the problem?"