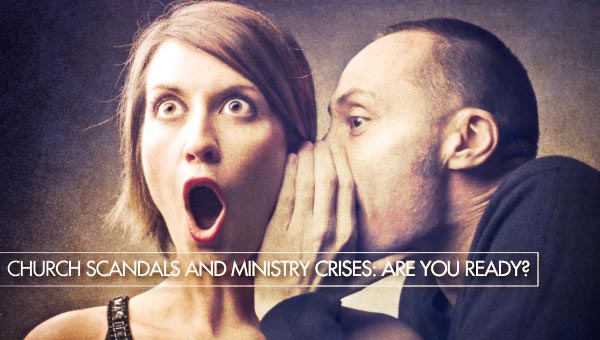 In ministry, storms will come. While they may be natural disasters, storms often take the form of moral failure, poor planning, or insufficient preparation. If you are not prepared, they can leave lasting damage. Planning for these threats is often referred to as risk management.
If you're like most church leaders, the words 'risk management' make you think of businesses — not church. Since you've been called to ministry by God, it's easy to dismiss risk management as unnecessary because God will protect you. Sadly, a quick Google search of 'church scandal' will uncover hundreds of stories of churches and ministries that have been destroyed by issues they could have avoided if only they'd planned ahead with the right accountability systems. The fact is, ministries are full of human beings, and human beings are not infallible. There is always going to be risk.
Here are three big reasons we as leaders need to be paying attention to those risks:
Reason 1: As church leaders, we represent God to the community around us.
Church scandals hurt more than just church leaders. Congregants who held those leaders in respect can feel betrayed or disillusioned, sometimes leading them to question the church and even God. The surrounding community, too, looks to the church for a picture of God. When a church's or church leader's reputation is tarnished, so is the name of God in many eyes.
It is absolutely vital that we are wise to the risks surrounding our ministries and take steps to prevent them. Care and accountability don't show a lack of trust toward our people; they show a respect for the fact that we represent God to the world around us!
Reason 2: Churches are particularly susceptible to certain types of risk.
Take theft or financial mismanagement. Without systems in place to minimize the opportunity someone has to mismanage donated funds, church coffers are a constant temptation at best and an easy target at worst. Or take security precautions — no one thinks their church, their school, their community can be the site of an attack or a natural disaster until it happens, and by then it's too late. And then there is the ever-present possibility of a moral failure on the part of senior leadership.
Moral failures are all too common in ministry today, and can absolutely devastate not only the minister and his or her family, but the entire church or ministry he or she leads. These are risks that every church faces … and every church can prepare for.
Reason 3: There are concrete steps you can take to minimize the damage — or even prevent it entirely.
The reason it's important to be aware of all these risks is simply that you have to know about something before you can plan to mitigate it. Financial mismanagement can be protected against by segregating financial duties, so the person who enters invoices isn't the person who signs the checks, and so on, building accountability systems into the church's financial management.
Having staff and volunteers trained in what to do in case of an emergency can save lives. And transparency and accountability among all church leadership can help leaders lean on each other and find strength before a stumbling block becomes an all-out moral failing.