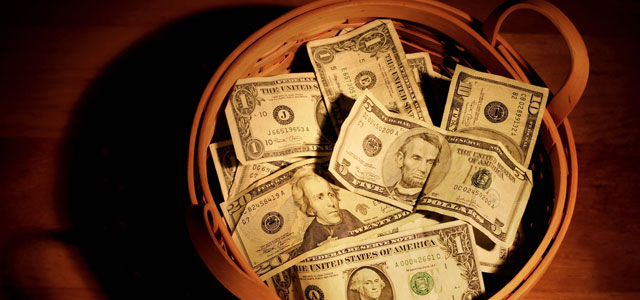 Give and it will be given to you. A good measure, pressed down, shaken together and running over, will be poured into your lap. For with the measure you use, it will be measured to you. ~ Luke 6:38
READING: II Corinthians 8
Times are tough economically. Pastors are telling me that giving is down in many churches. The economy of this world is selfish and self-centered. It says, "You need to keep everything for yourself, especially during tough times."
But that is not what Jesus said. The picture that Jesus paints is of a person having the lap of his robe filled to overflowing with grain. The trigger is giving.
God's economy is based on faith expressed in God through giving. The Lord says "Give and it shall be given. As you give to me in faith, I will provide for you. You will be blessed! Trust me!"
Many pastors are afraid to teach about giving. My conviction is that pastors should be afraid NOT to teach about giving. Why? When we do not teach what the Bible says about giving, we keep our people from being blessed. We neglect teaching our people about a great way to glorify God. Our church remains impoverished.
In my fourth church plant, I taught four consecutive Sunday messages on giving from II Corinthians 8 and 9. I was afraid. How would my people respond? Would they feel like the church just wanted them for their money? Would some people leave the church?
It turned out to be one of the best received message series I ever taught. People gave spontaneous testimonies about how God was blessing them as result of their giving. They were discipled in giving. They glorified God. The church was strengthened financially.
Consistently teach your people to give to God. God will bless.
Father, Give me courage to teach my people about giving so we can all enjoy your provision. Amen.
Dynamic Church Planting International (DCPI) "Equips Leaders to Plant 5 Million Churches Worldwide." Learn more