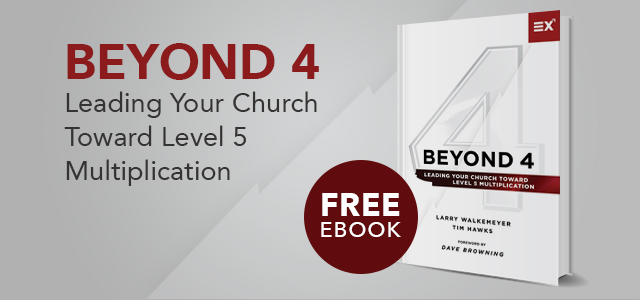 Free eBook
From Exponential:
This new book, Beyond 4: Leading Your Church Toward Level 5 Multiplication, is the second book in Exponential's "Multiplication Pathways" series preceded by New to Five: Starting a Level 5 Multiplying Church by Ralph Moore and Jeff Christopherson. Both are key resources in the ongoing conversation.
This new book includes a wealth of insight for what it takes to travel the 4 to 4+ multiplication pathway. Tim and Larry vividly share their stories of climbing beyond the basecamp of Level 4 toward the summit of Level 5 multiplication. In addition to their inspiring experiences, they bring us the practical lessons they've learned along the way.
Both leaders have been instrumental in developing the Becoming Five framework and identifying the multiplication pathways we detailed in Dream Big, Plan Smart. Our prayer is that you'll learn from Tim and Larry and be inspired to climb higher beyond Level 4. This new book is a great place to start!
Resource provided by Exponential

Download Instructions: Follow the directions at the download site to download this resource.