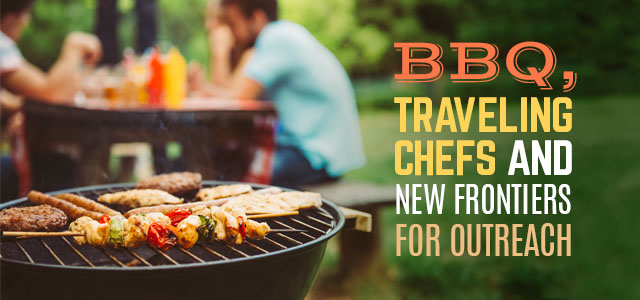 Pastors, one of the ways we can better shepherd our people to the field is giving attention to their passions, interests, skills and vocations, AND asking where such factors overlap with the desires of the world. Unfortunately, we often tell them to go, put them in connection with a mission agency, but never give them a vision of the possible with their Kingdom passions. They are often required to step away from what the Lord has worked into them over the years in order to fit into the mold of some contemporary sending structures. Of course, sometimes our Father does call some people to forsake all vocations, skills, etc. and follow the Spirit into something new. But I think the key word in that sentence is sometimes.
One of the things that brings me delight is when I hear our members say, "J.D., I love what the Lord has enabled me to do with my hands. I am passionate about my skills and disciple making. I am thankful to know that how I am wired can be used to spread the glory of God among the nations."
Let me provide one example of the possible.
People love to eat. And many people love to cook. Just look at the number of cooking shows on television—especially those related to chefs traveling to remote places for new recipes and methods.
Food is a very important part of every culture in the world, not only for survival but for fellowship, communication, hospitality and the transmission of culture from one generation to the next. Consider how regional cuisines have become fused with other regional approaches in our highly globalized and mobile world. Recently, I read of Koreans who came to the States, developed an appreciation for Mexican, Alabama BBQ and New York Delis, and returned to Korea to open a completely new set of eateries.
If people can come to the West and return with a new approach to the culinary arts, what about all of those people in our churches who have already mastered our regional styles in demand throughout the world? Is there a place for them—and their abilities—among the nations?
This past March our team was delayed a day in Nicaragua. What were we (a bunch of Birmingham Alabamians) to do? Find BBQ of course!
Our host shared with us that the country had its first American BBQ restaurant to open a couple of years ago. We decided to check it out.
Cornelius' American BBQ was what we discovered. It was great hearing Cornelius' story. He grew up in San Francisco, married a Nicaraguan, and moved with her to Managua to open his restaurant. Nothing like it in the country. Talk about a Blue Ocean Market (for you entrepreneurs)! What a way to connect and share life with the people!
What if a future to your church's short-term trips involved a recipe and cooking workshop exchange with Moroccans? What if some of your church members spent a summer in East Asia sharing their culinary delights and learning from Asian cooks? What if those church cookbooks that your church publishes every few years have a greater purpose than simply being available for members to purchase and then sit on shelves?
Cooking allows for people to share life together and the gospel. Pastor, I can't go for I can't teach, can't build a school, can't operate a medical clinic, but I sure can cook fried chicken and collard greens. Is there a place for me when it comes to making disciples of all nations?
Pastors, if we do not recognize that our churches are filled with people who are filled with a multitude of passions, interests, hobbies, skills and vocations, then we are nearsighted. And if we do not cast the vision to our people and help provide pathways to the field for them and their abilities, then we are neglecting a great trust. Do we see such potential? Are we willing to try to make new opportunities? If we do not, then it will not happen.
Do something differently. Do not wait for your mission agency to give you permission to try something new. How about asking your agency to use your church as a pilot initiative for a new endeavor? Go ahead…and if you need to, you can blame it on J.D. for putting you up to it.
Our people are possessed with many means to reach hearts. And I'm willing to guess that you have members who are able to reach the hearts of the peoples…through their stomachs.
This article originally appeared here.