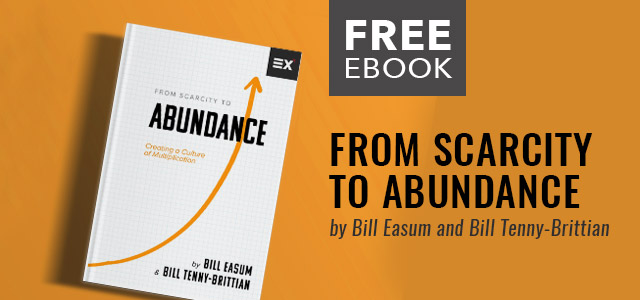 Free eBook
From Exponential:
When church leadership veteran Bill Easum returned home from a meeting with national church leaders that Exponential assembled to identify the characteristics of Level 5 multiplying churches, he knew something was different. And he had to write about what he had just heard.
From Scarcity to Abundance champions Exponential's focus on churches making disciples who make disciples that plant churches that plant churches—specifically in the West. Easum and Tenny-Brittian offer illustrations and insights from U.S. leaders who are championing a different definition of success and a new scorecard for measuring their ministry progress and success.
Through interviews with J.D. Greear, Ralph Moore, Brian Bolt, Wayne Cordeiro and multiple others, the authors show us real-life examples of what leading from scarcity to abundance looks like. These leaders live and breathe to raise up leaders to give away to plant a new church (or churches), which will do the same.
"Our hope is that you'll see success is about the multiplication of everything you do," the authors write. "Our dream is that 30 years from now, the normative way of planting churches will be like what you read in this book."
Reader Takeaways
Stories and examples of Level 4 and 5 multiplying churches
Insights from numerous Level 5 Multipliers
The differences in practices between addition- and multiplication-focused churches
Case study of a Level 5 multiplying church
What radical discipleship looks like and why we can't miss this step
The sacred cows that are probably getting in the way of your multiplication
The practices and tensions of transitioning from an addition culture to a culture bent on multiplication
What it takes to be a "sending" leader and church
Resource provided by Exponential

Download Instructions: Follow the directions at the download site to download this resource.