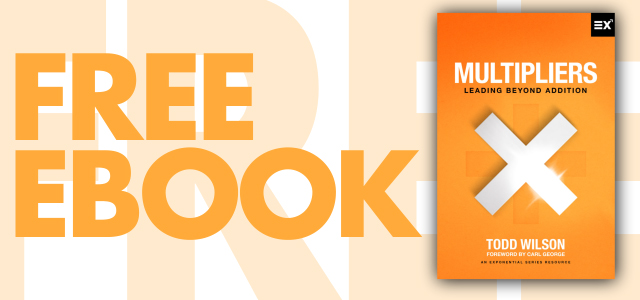 Free eBook
From Exponential:
Are you sensing that something's just not right about our addiction, and possibly idolatry, to our accumulation cultures that produce cultural Christians? The new Exponential book Multipliers: Leading Beyond Addition was written with you in mind. Multipliers combines the best of Exponential's multiplication-focused content into one single handbook for aspiring Multipliers that are committed to seeing the Kingdom advance!
"Multipliers…embrace a scorecard that prioritizes releasing and sending over accumulating and growing. They take their cues from Jesus and seek to be fruitful and multiply," writes Todd Wilson. "They are intentional about Jesus' 'go and make disciples' command and fully embrace the leverage that comes from building capacity for disciple making through the multiplication of healthy, reproducing churches."
Reader Takeaways:
How to know if you're embracing the wrong scorecard for success
Why deconstructing your current addition-focused scorecard is a non-negotiable
Critical characteristics of a multiplying church
The keys to creating a culture of multiplication that values sending over accumulating
The inevitable tensions of moving from being a leader who accumulates to one who multiplies
Five essential practices for shifting from hero to hero maker
What it takes to lead your church to both grow and multiply
Best practices for turning good intentions into action
Reader Takeaways
Stories and examples of Level 4 and 5 multiplying churches
Insights from numerous Level 5 Multipliers
The differences in practices between addition- and multiplication-focused churches
Case study of a Level 5 multiplying church
What radical discipleship looks like and why we can't miss this step
The sacred cows that are probably getting in the way of your multiplication
The practices and tensions of transitioning from an addition culture to a culture bent on multiplication
What it takes to be a "sending" leader and church
Resource provided by Exponential

Download Instructions: Follow the directions at the download site to download this resource.