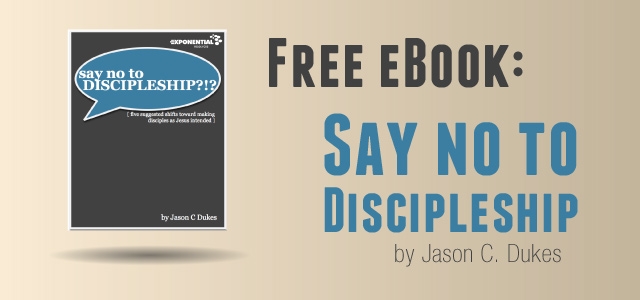 Free eBook
Download this free eBook from Exponential and share it with your leadership team, Say No to Discipleship: Five Suggested Shifts Toward Making Disciples as Jesus Intended by Jason C. Dukes.
From Exponential, "Discipleship done in ways Jesus didn't intend will result in disciples that Jesus didn't intend, e.g., people who make presentations rather than have presence, who follow moralism rather than the Messiah, and who measure their spirituality with a mirror rather than in community. In this free resource, Jason C. Dukes offers some context to the assertion that we should say no to discipleship, as well as five suggested shifts toward discipling as Jesus intended."
Resource provided by Exponential
Download Instructions: Follow the directions posted on the Exponential site to download this free resource.