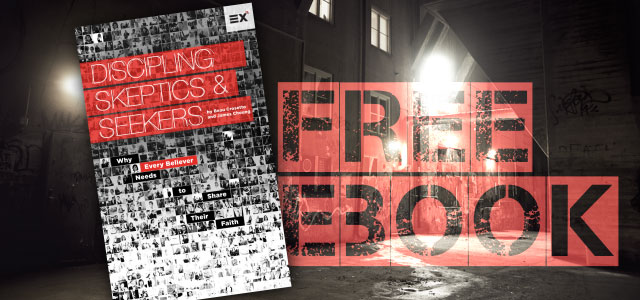 Download and share this free eBook with your team, Discipling Skeptics and Seekers: Why Every Believer Needs to Share Their Faith, by Beau Crosetto and James Choung.
From Exponential: "If we are serious about the Great Commission and making disciples, then we need to be serious about evangelism because evangelism is the discipleship of skeptics and seekers of Jesus, say InterVarsity ministry leaders Beau Crosetto and James Choung. In this new FREE eBook, the authors help leaders understand two things: 1) Why every believer needs to be doing evangelism and leading people to faith, and 2) How you can create a culture of witness in your church or faith community. For too long, we were pressuring people, and now we have become passive in evangelism. Crosetto and Choung say the time is now to seek a third and better way!"
Resource provided by Exponential
Download Instructions: To download, click the link that says "Download the eBook" and follow the instructions.