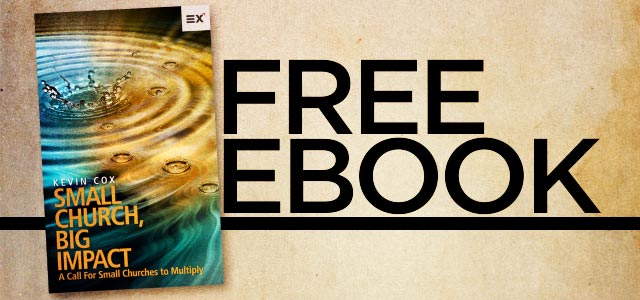 Small Church Multiplication
Becoming part of a planting movement is not only for large churches. Small church multiplication is not only possible, but is "absolutely necessary if we're going to see our society transformed,"
Download this eBook and share it with your leadership team to help create a vision for church planting, no matter what size your church is at right now.
Exponential offers the following in-depth glimpse at the content of "Small Church, Big Impact":
Size does not determine impact. Over the last years, Vista Church in Heartland, Texas, has lived by that empowering sentiment inspired by Paul's letter to the church at Colossae. Through this small band of believers (Paul never even met them personally), he gave the body of Christ its deepest Christology (Col. 1:15-19) and unveiled a larger view of Christ. Similarly, Vista Church regardless of its small size has committed to unveil a larger view of Christ's Kingdom through multiplication.

In the fourth eBook in Exponential's new multiplication series, church planter and coach Kevin Cox shares his personal story toward church multiplication and the tensions and lessons learned as Vista Church has partnered with 13 new churches that are in turn, multiplying–churches planting churches that plant churches. In Small Church, Big Impact, Cox both inspires, challenges and equips churches to plant regardless of their Sunday morning attendance numbers. "We're proof that not only is it possible for small churches to multiply, but it's absolutely necessary if we're going to see our society transformed," Cox writes.

He reminds us that the Holy Spirit will use any church willing to surrender themselves to Christ's mission to extend the Kingdom of God through the multiplying of churches–because size does not determine impact.
Resource provided by Exponential 
Download Instructions: To download this resource, follow the on-screen directions at the download site.