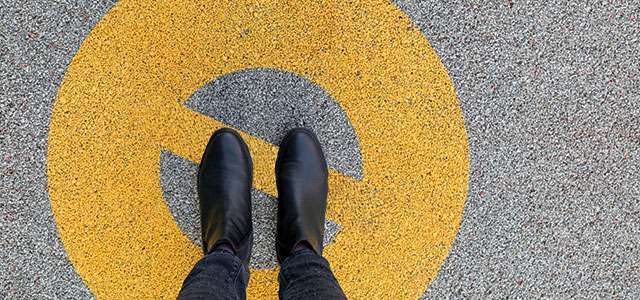 I sit there listening while my pastor friend tells what he's going through in his church. And sometimes all the alarms go off. I realize he is in a dangerous place in his ministry: the pastoral danger zone. Not always, but sometimes, I can tell him this. If I sense a leading from the Holy Spirit or if he and I already have a close enough relationship, I'll interrupt him.
"Brother Bob, can we pause the narrative here a moment? I need to point something out to you."
"My friend, you are exposed. You are a sitting duck. Life has drawn a target on your back. Satan has his gun-sights on you."
"You'd better do something big in a hurry or you're going to get in bad trouble."
He sits there stunned, without a clue.
"What do you mean? I'm doing everything I know to work my way through this."
10 Signs of the Pastoral Danger Zone
I say, "I'm not talking about what you are going through. I'm talking about where you are personally at this moment. You are in a vulnerable spot and you need to move before something bad happens."
Older, veteran pastors have learned the hard way to tread softly through this dark valley they have entered. They have seen the carcasses of their peers strewn about, brought down by ego or depression or temptation.
It's the young minister who is more likely to try to brave it out alone. It's the young pastor who is more prone to end up a victim instead of a victor.
On the highway, signs alert motorists as to scary places. They are instructed to drive carefully, to slow down, to watch for obstructions.
Would that we had some way to tell God's servants they are entering such zones in their ministry.
Pastoral Danger Zone #1 – You are tired.
The sign on the highway might say: Warning, ministers of the Gospel: For the next ten miles, you are tired. Your reactions will be slow, your mind is not sharp, you may find yourself in trouble before you know it.
We think of Elijah. After that great victory over the Canaanites at Mount Carmel, the exuberant man of God ran nearly 25 miles to Jezreel. Arriving there, he learned that Jezebel wanted him dead. Instead of reacting in faith–as he had done on the mountaintop–his fatigue betrayed him.
Jezebel's threats, her dogged worship of Baal, and her control over Israel burst his balloon and destroyed his confidence. Fearing for his life now, he fled, ending up at Beersheba, a hundred miles south.
When we are tired, we don't feel like reading our Bible or praying or doing the Lord's work. As Elijah was to find, what he needed was nourishment and sleep (I Kings 19:5-7).
The minister who thinks of himself as above the need for proper food and rest is setting himself up for a failure in a dramatic way.
Pastoral Danger Zone #2 – You are bored.
The sign on the highway reads: Warning: Boredom. Ennui for the next dozen miles. Be careful of distractions. Keep your hand on the wheel and your eye on the road.
We think of David. At the time when most kings were in battle defending their country, he stayed home. "But David remained at Jerusalem" (II Samuel 11:1). One night when he could not sleep, he rose from his bed and walked on his rooftop and spotted Bathsheba taking her bath. Nothing good followed that.
David had cleared off his schedule and had no important goals remaining before him. There was a void in his life at this point, making him a sitting duck for temptation.
Every minister gets bored occasionally, no matter how exciting his ministry and how rewarding his relationships. It's human. What he does with the boredom may well determine whether the rest of his life is spent in fulfilling work for God or picking up the pieces of his ruined dreams.
Satan is no fool. He can see that you are bored. He hears your sermons and knows when the joy has gone from them. He watches your family and spots when the excitement has left your marriage.
This is the time to kick your prayer life and personal devotional life into high gear, child of God.