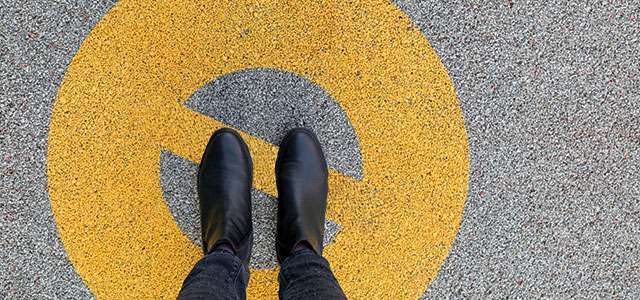 Pastoral Danger Zone #3 – You find yourself at a critical crossroads.
The sign on the highway reads: Intersection ahead. Decision time. Choose carefully your route because you will be on it the next 25 miles.
A change of career, a change of direction in your ministry, a change of your understanding of God's will for your life—all are critical moments. They are dangerous times.
In my late 30s, I was bored in my ministry and in our marriage. The president of one of our SBC seminaries invited me to campus to discuss the possibility of taking a staff position. Margaret and I drove down and spent a couple of days in discussion and prayer. I still recall her tears as she looked at the sad choices of homes that were available to us on campus. As we left, I was 95 percent sure I would accept the president's invitation.
On the long drive home, God changed my heart. I realized I was doing the ministry God had called me to, and that I loved my wife and adored my children. I did not want to serve anywhere else or be married to anyone else. I phoned the president and thanked him kindly, then rededicated myself to pastoring that church and leading my family.
A pastor I know resigned a large church in Texas and moved to a smaller one in Mississippi. Later, he admitted to a friend that he had made that decision at a bad time. "I was just exhausted," he said. "And when I got rested up, I was pastor of the wrong church."
I heard one old preacher advise, "Never make critical decisions on Monday or when you are tired." Good counsel.
Pastoral Danger Zone #4 – You are angry.
The highway sign reads: Caution: Anger. Blurs your vision, hardens your heart, exaggerates your reactions. Pull over to the side of the road and get control of yourself.
We don't require a biblical example to teach us about the dangers of uncontrolled anger or the benefits of taming this lion. Paul advises, "Let not the sun go down upon your wrath" (Ephesians 4:26). The point of that is to say a) we all get angry from time to time, but b) it needs to be dealt with promptly. Undealt-with anger is a poison which contaminates everything it touches and destroys every relationship.
My own experience says that when we are backslidden–when we get out of fellowship with the Lord–we become critical of God's people and angry at the least offense. Likewise, when we are close to Him, we love those same people and are understanding and forgiving toward those who do us wrong.
The anger, therefore, seems to be a "road closed" sign that would interfere with our loving people and building strong and lasting relationships.
Deal with your anger, pastor. Do it before you leave the house today. Leave it at the foot of the cross.
Pastoral Danger Zone #5 – You are lonely.
The highway sign reads: Loneliness makes you a target for temptation, lowers your resistance to impurities, and weakens your resolve. Get over it quickly.
Criminologists tells us that no one ever commits a crime without first justifying it. I suspect that those in the Lord's work who step across the lines of fidelity in marriage excuse what they are doing with protestations of loneliness.
You may be lonely. No one is saying otherwise. There is a great deal of unhappiness and even loneliness in many a marriage. And yet, that does not justify breaking the marriage vow.
In his book "The Myth of the Greener Grass," Peterson reminds us that Satan's lies are directed toward good people to entice us to do wrong from good intentions.
This is not the place to go into all the cures for loneliness in marriage, but our point is that this condition makes the man or woman of God vulnerable to temptation and enticement.
Someone told me recently of a minister who lost his pastorate, his family, and all the esteem he had built up over the years by an affair with a woman he was counseling. "What was stunning about this," my friend said, "was that the woman was a notorious adulterer. The pastor knew full well what she was and still gave up everything for her."
Loneliness makes one so vulnerable. Be aware. Stay alert. Stay on your knees.
Pastoral Danger Zone #6 – You are stressed.
The sign beside the road reads: Stress is a killer. Marital stress, financial stress, internal church stress–all are signals that the bridge could be out on your highway. Slow down and pay close attention.
In the cartoon, the older woman tells the young one, "Stress is not par for the course, dear. It is the course."
Stress is just another word for the pressures that close in upon us. We all have them. The only person without some kind of stress in his/her life is now resting comfortably in the cemetery.
Every marriage encounters stress. Every human has to deal with financial stress at one time or the other. And in churchwork, stress comes in truckloads–people conflicts, schedule conflicts, money problems, doctrinal clashes, personal disagreements, denominational warfare, the list is endless.
By itself, stress is not bad. It's a given. It's always going to be there. As the TV character said, "It's always something." Yes it is.
When you wish to build a muscle, you put stress on it. When God wants to build His children, He allows us to go through stressful times. The plan is that they will press us in closer to Him and emerge stronger than when they entered.
It is good for me that I have been afflicted, that I may learn your statutes (Ps. 119:71).