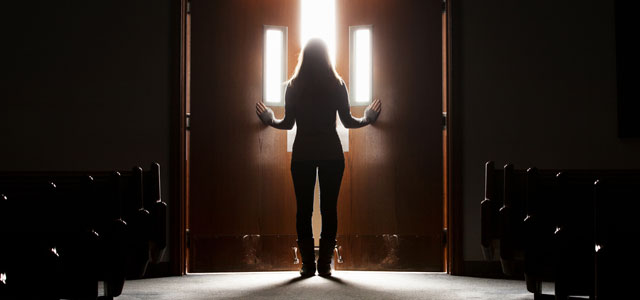 You see, the church is often judgmental not because it's made up of Christians, but because it's made up of humans, and humans are all judgmental. We all tend to assess the people around us to see how we measure up, and if we can somehow outrank others, we feel better and safer. This isn't just a church thing. It's a work thing. It's a class thing. It's a race thing. And it's pretty much always wrong.
"The Church Is Full of Hypocrites"
Guilty again. You see one person at church and another in the cubicle and they both go by the same name. We hear preachers and politicians proclaim moral virtues while secretly living very differently. We are actors. But again, we are ALL actors. It's human nature to wear a mask to avoid the pain of scrutiny and judgment by others. So nobody walks into church cussing the way they did during the game Friday night. After all, we have an image to uphold.
Granted, the church ought to be the once place where this pattern is broken, but can we acknowledge that if we understand human nature correctly, this is really a terrible reason to be done with the church. After all, if you spot this problem, you obviously have a desire to be authentic and transparent yourself, so we NEED you to help make the church different.
"The Church Is Too Institutional"
This is often the case, especially in America. Rather than being a loosely-organized organic community of friends, we're a business and a bureaucracy. We erect ginormous denominational structures with boards, committees, parliamentary procedures, and elected officers. Within the church, we have budgets and buildings and sometimes resemble the corporate world a little too much.
Here's the flipside, though. Just as it's possible to be too institutional, it's dangerous to be too anti-institutional. Some level of institutionalism is necessary to maintain financial records ethically, organize people to accomplish the mission, and provide at least a simple structure through which people can be equipped to grow spiritually and serve others.
Somewhere, there is a happy medium, and you might just be the person to help us discover it.
"The Church Is Too Political"
Sadly, this is true, in multiple directions. On the one hand, we have the "religious right" or "moral majority" who completely confuse what it means for the church to be light and salt in the middle of a secular culture. We wrongly promote a kind of theocracy that seeks to "put God back into America" and legislate from our selected set of Scriptures. And on the other hand, there is a rather leftist, "progressive" branch of the church that seems to fight for an opposite set of values often with similar tactics.