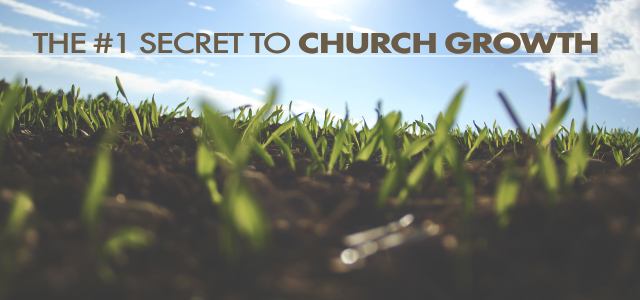 When I was pastoring a church that took off like a rocket from 150 to 150 in four years, I wrote every pastor of a growing vibrant congregation over 1,000 I could find.
I asked them for their best advice on how I could lead my congregation to become a healthy, growing, outreach-focused church like theirs.
I purposely sought out people who had led their church through my exact stage and beyond, instead of seeking out senior pastors whose tenures began at a much larger size.
Of all the advice I received back, none was more helpful than what I received from Pastor Rich Nathan of the Vineyard Community Church in Columbus, Ohio.
After sharing some very encouraging words about how difficult it is to be a pastor, regardless of the size of your congregation, Rich wrote the following,
"It appears you have no idea what you're doing when it comes to implementing simple but effective systems for churches in the 300-1,000 range; things like mobilizing members for outreach, assimilating visitors, recruiting volunteers, etc."
The only thing I really heard when I read that letter were the first nine words: "It appears you have no idea what you're doing…"
Those words have always stayed with me.
They were as insightful as they were direct.
Wounds From a Friend
I've come to believe that admitting to yourself, to your team and to your congregation that you have no idea what you are doing is the secret all senior pastors of growing churches have in common.
Why?
Whether we're pastoring churches of 25, 250 or 2,500, every church reaches a size and level of complexity that surpasses the senior pastor's skill set and experience.
When one reaches that point the most honest and helpful thing a senior pastor can say is, "I have no idea what I'm doing."
Every staff member reaches this point.
Every person on your governing council reaches this point.
So why wouldn't you expect to reach this point yourself?
A Difficult Admission
You'd be surprised how rare it is for me, as a coach of senior pastors, to hear the following words from a fellow leader in the trenches: "I have to be honest. I've never led past this size, or in a church with this amount of complexity."
My conviction is that until you truly are able to articulate that, you'll never seek help—from peers, from coaches, from former pastors, from anyone that can help you. Consequently, you will remain stuck, and your church will remain stuck. Churches never grow past the leadership level of the senior pastor, ever.
Desperation is a funny thing. It either humbles you, which in turn makes you hungry enough to go find the answers to your questions, or it demoralizes you and makes you depressed.
For three of the four years I served that church that had flatlined at 150, I became demoralized, depressed (clinically at one point) and wanted to quit.
If someone had simply told me that EVERY PASTOR GETS TO THIS POINT, and I mean every single one, I could have taken advantage of that season earlier. Instead, it took me getting to the point of absolute utter desperation to FINALLY muster the courage to admit to my team and my congregation what they already knew.
Are You Wasting This Season?
Maybe you're there right now—doubting, frustrated and shaming yourself.
Please stop doing that.
Instead, use this God-given season of non-growth in your ministry as an opportunity to go out and learn from others:
• Go visit their churches.
• Watch their sermons and services online.
• Interview their leaders.
• Steal their ideas and make them your own.
Whatever you do, don't waste this season of non-growth in your ministry.
It is a gift from God.
Trust me.