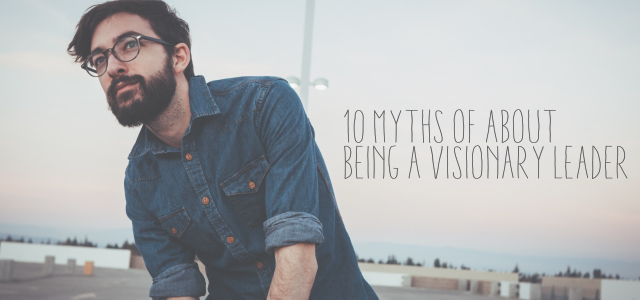 There's a lot of confusion around being a visionary leader. Often mission is mistaken for vision. I could go on and spend the next hundred blog posts dismissing the myriad of myths that have emerged around this idea of vision. In The Power of Vision, George Barna highlights the 10 most common myths and realities surrounding vision.
Myth 1: Vision should be the result of a consensus among the organization's key leaders regarding future activity by the organization.
Reality: Vision is not the result of consensus; it should be in consensus.
Myth 2: Vision and mission are synonymous.
Reality: While vision relates to specific actions, mission relates to general approaches to action.
Myth 3: Some leaders are visionaries, some aren't.
Reality: By definition, all leaders are visionaries.
Myth 4: The purpose of vision is to estimate future realities and then to operate effectively within those parameters.
Reality: The purpose of vision is to create the future.
Myth 5: Strategy and vision are often confused. In reality, vision is conceptual; strategy is practical and detailed.
Reality: Vision is conceptual, but it also is practical and detailed.
Myth 6: Real vision protects the organization from risk.
Reality: Risk is a natural and unavoidable outgrowth of vision.
Myth 7: The best way to capture vision for an organization is to copy the vision articulated by another respected leader.
Reality: The leader who takes a "me too" approach in defining vision is neither operating on the power of God's leading nor demonstrating a capacity for authentic leadership.
Myth 8: If it takes too long to develop, the result probably isn't the true vision.
Reality: God may take more pleasure in our attempt to know his mind than in our eventual ability to capture that insight.
Myth 9: A organization's vision needs to be re-created every couple of years.
Reality: Vision usually outlasts the visionary.
Myth 10: The best way to communicate vision is to develop a catchy slogan that people will remember.
Reality: Too much emphasis upon a slogan can be detrimental.