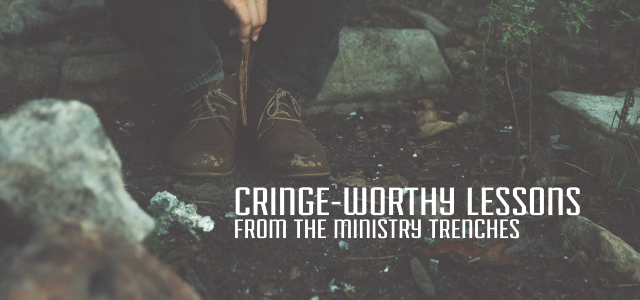 One of the most important lessons I've learned in ministry is that I often don't know what I don't know.
Those first few years (and some of the later ones) were tough because of what I share in this eBook.
The problems I had at first and continued to deal with along the way usually came back to these five lessons I had to keep learning over and over.
I want to give you a snapshot of them here. Here are five lessons I wish someone had taught me when I started ministry.
Lesson 1: The Job Is Not My Identity
Is your personal identity wrapped up in your ministry or in Christ? Those who cannot separate their ministry from their identity in Christ are often workaholics and have no outside hobbies or friends. What happens if you're fired or leave a church and don't have a ministry job for a while? Can you survive? I almost didn't.
Lesson 2: I Don't Deserve This Job
I was the savior of our dwindling church. I was leading worship while growing a youth group that rivaled the attendance of our Sunday morning worship. I was untouchable! They needed me! They fired me! Wait….what? Yeah, I got the ax; all because I thought I deserved that job. God showed me he didn't really need me to do his work. He put me in the belly of the fish. Like Jonah.
Lesson 3: Good Leaders Are Good Followers First
Leaders who have never been able to follow will be terrible leaders. Jesus himself was a great leader who understood submission to authority. His prayers in the Garden of Gethsemane show us that he was willing to follow his Father's will to the letter. Will you follow your church leadership or gripe and moan the whole way about how you could have done it better?
Lesson 4: Respect Is a Two-Way Street
What do you think earns proper respect? Is it a title? Accolades? Or is it that your cause is more worthy than someone else's? I tell a few stories about how I learned that to get respect, you have to give respect, even if they sometimes don't deserve it.
Lesson 5: Learn to Delegate My Weaknesses
Some of the greatest leaders are great delegators. They know how to assess the body of work, divide it up among workers and then assign it to the appropriate people. They also know how to check in and motivate subordinates without fear. Sometimes, it feels like you're not doing much, when in actuality, you're doing more. Let me show you how to master this crucial leadership skill before you burn yourself out.
Learning these lessons probably took a few years off my life, I'm sure, but they don't have to do the same to you!
That's why I wrote this eBook.
Besides, it's a quick read with some pretty pictures. You'll like it.
To get the full story of the lessons I've outlined here (plus a few chuckles wrapped in a cringe-worthy story or two), download my free eBook by clicking here!