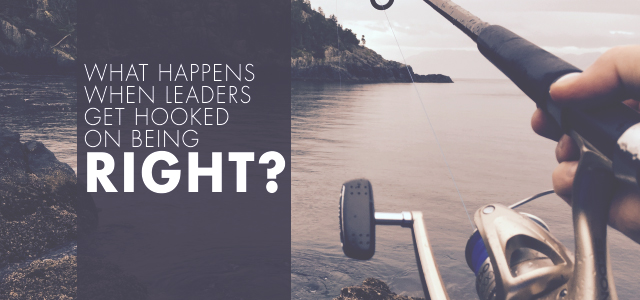 You've been wrestling with a ministry challenge and you believe you've found the right answer. At the next board meeting you share your idea and one board member begins to voice opposition. Because you feel so strongly that you're right you begin to raise your voice, talk faster and talk over others who want to engage in the conversation. Tension escalates. Anger rises. You think, "How dare they think I'm wrong. I know I'm right." What happens in those types of meetings? Why do they tend to go south? And what's a leader to do when this happens more often than not? What do you do when you are hooked on being right?
If this has ever happened to you, a small almond shaped structure called the amygdala has hijacked your brain. Located deep inside our brains, it (there are actually two of them) causes our fight-fight-freeze-appease response to danger.
So when you felt threatened from a board member's pushback, your emotional side takes over. And when that happens, the part of our brain that helps you think clearly, respond wisely and listen carefully, the prefrontal cortex right behind your forehead, gets shut down. You react emotionally rather than thoughtfully. And when you get too pushy, you probably put the other people's brains in the same fight-fight-freeze-appease mode which increases their resistance to your idea.
Unfortunately, many pastors and leaders get stuck in this unhealthy mode. They are driven to be right, avoid appearing wrong or even appease others. As a result, too much of the stress hormone, cortisol, courses through their bodies and brains and puts them in a state of chronic stress. Too much cortisol over long periods of time harms our hearts, decreases our creativity and memory, and actually kills brain cells.
When that happens, what can we do?
Evaluate whether or not you are under chronic stress. If you often feel anxious, react easily, people-please too much or have difficulty concentrating, your amygdala may be controlling you instead of the Holy Spirit. Your body may be telling you that you need a cortisol break. Ask a close friend or a counselor to help you determine if you're under chronic stress. Even better, ask them if they feel like you always need to be right. Of course, you may not even need anyone to tell you that. You may already know it. A good dose of self-honesty will go a long way toward healing. If you are under chronic stress, create a plan to lessen your stress.
Remind yourself that God is in control. When the brain experiences uncertainty (i.e., Will the board approve my idea?), it feels threatened. When we feel threatened, our emotional side driven by the amygdala tends to take over. Yet, God is the most certain Reality in the universe and He tells us to have faith in Him. Now faith is being sure of what we hope for and certain of what we do not see (Heb. 11.1, NIV). Even with the uncertainty that comes with leadership, we can rely on God's steadfast certainty and His Spirit can override our human tendency to become fearful when things seem uncertain.
Learn to listen more empathetically (i.e., when you present your idea to your board). Empathy, being able to step inside another's shoes, is a key competency for successful pastors and leaders. One study even showed that empathetic doctors got sued less than non-empathetic ones (Ambady, 2002). It doesn't mean that you don't hold to your convictions. It does mean, however, that you try to listen with your heart. Empathy, kindness and caring can actually help activate the trust hormone, oxytocin. When that happens, when others feel that you care and that you really listen, they will endear themselves more to you and to your leadership.
So, if you have to get hooked on something, don't get hooked on being right about your ideas, but about being right with others and with the Lord.
What behaviors have you seen in leaders who are hooked on being right?
Here's another great blog posting on the subject by Judith Glasser.
This article originally appeared here.