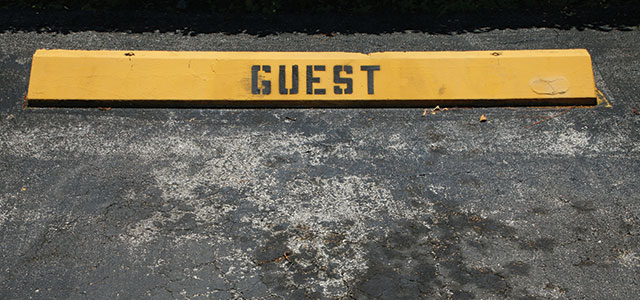 5. Guest-Friendly – Allow guests to remain anonymous in the service.
Please don't make guests stand up. The three greatest fears people have are going to a party with strangers, having to speak before a crowd, and being asked personal questions in public. So when we ask our guests to tell us their name and where they are from in front of everyone, we subject them to all three of their greatest fears at one time. Bad idea. How do you identify guests if you don't have them stand up? Have them fill out a welcome card. Then someone from the church can connect with them later.
6. Offer a warm, casual public welcome that relaxes people.
If you want to make guests feel welcome, you've got to be at ease yourself. That's what most people expect—just watch the late-night TV shows. Like it or not, how the pastor and the worship leader interact with each other sets the tone for good or for bad in a service.
7. Use technology to break down the barrier and make things guest-friendly.
Have an app or web-based connection card. Allow people to send a text to a short number to get more information. Ask people to check in on Facebook. And help people know where to go online for more information if they skip the information desk (because most of them will).
In the early years at Saddleback we used to say, "If this is your first time at Saddleback, we're glad you're here. We want you take a deep breath, sit back, relax and enjoy the service." You know where I got that? I heard someone say it on an airline once! Sit back, relax and enjoy the flight. All we're trying to do is help people relax and then make them feel comfortable.
You have to break down the fear barriers before people will ever open up to your message and consider coming back to your church. Try these guest-friendly tips in the coming weeks, and help your church grow this year.
This article on how to make your church guest-friendly originally appeared here.