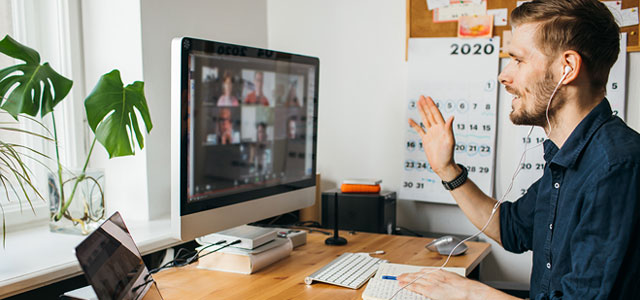 I have used Zoom for meetings for a number of years. During my tenure at Leadership Network, there was never a week and seldom a day that didn't include a Zoom meeting. So, when so much of the world shifted to Zoom over the past few weeks it was completely comfortable for me. I've learned that is not the case for many.We had staff members that had never heard of it. Deacons and Bible study leaders needed coaching in how to use the platform. Many in our church have scrambled quickly to figure out how to engage in better Zoom meetings so they can continue to be engaged.
Just this morning, I talked with a couple of church leaders who still aren't using it, simply because they don't know how. We only know what we know, right?
Here are 5 tips for better Zoom for meetings:
Have an agenda.
Hopefully you would do this for an in-person meeting, but it may even be more important for better Zoom meetings. Know in advance where you want to go with the meeting. This will also keep you from putting people on the spot; like you shouldn't in an in-person meeting. Give people advance notice if you are going to call on them for something specific.
Facilitate the meeting.
Even though it is virtual, someone still needs to lead the meeting. Make sure there is a "host" or someone who will make sure progress is made towards the agenda. No one likes meetings that continue when the business is done. That's even truer when you're online. When you've completed the agenda the "leave meeting" option is your friend.
Don't be afraid of silence.
Sometimes the technology makes us think we have to have constant "noise", but it's okay to have moments where no one is talking. See the meeting as your "room." For better Zoom meetings imagine you are there in person and people are in chairs around the table.
Give everyone a chance to talk.
Introverts shut down when meetings are in person, but that's especially true in a zoom room. Introverts will not be likely to talk over others. You'll have to give them a place to talk. That's also where some moments of silence can help. (I wrote a post about engaging introverts in meetings. It might be even more applicable now.)
Find and learn some important features:
Record. This allows you to save the meeting and share it with anyone who was not able to attend. You can find record on the bottom of the screen.
Chat. Located on the bottom of the screen, the chat feature allows you to share written content or provide links to other resources. This is also a great way for introverts to provide input.
Mute. This feature is in the bottom left of the screen. I find it best if everyone mutes unless they are talking. This helps you avoid background noise or interruptions.
Gallery View. In the top right hand corner is the "speaker view" or "gallery view". I recommend the gallery view so you can see everyone at once. If it is a larger group you may have more than one screen of people. You can toggle back and forth with a tab that is usually in the middle of the page on the left or right of the screen.
Share screen. Also located in the bottom of the screen is a "Share Screen" option. This is what it sounds like. You can pull something up on your computer and instead of seeing you the participants will see your screen. There is also an option for a Whiteboard. I've just started using this feature but it really is helpful if you are like me and "think" as you draw/write on the board.
I hope this helps you have better Zoom meetings.
This article originally appeared here, and is used by permission.