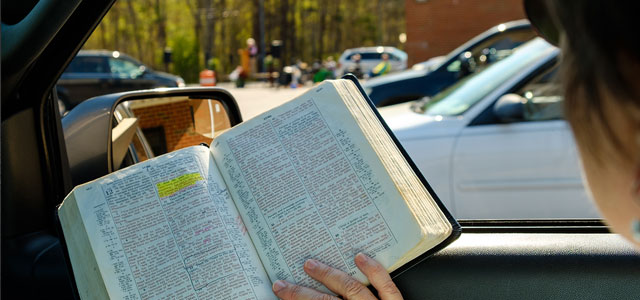 Everyone is feeling the effects of COVID-19. Many churches aren't able to worship in-person right now, but some churches have easily made the switch to live streaming. For a myriad of reasons, streaming to Facebook or other platforms might not be a great option—especially for churches with smaller congregations, in rural communities, or with older demographics. Beyond Sunday worship services you might also wonder how to have community with the church when you're not physically together. Here are some other options to stay connected with your congregation when you're unable to connect in-person.
Drive-In Church
Depending on your region's restrictions, a drive-in church might still be an option on Sunday morning. Think drive-in theater meets church. Set up a stage or platform outside, then have everyone drive to the parking lot and face the stage as they park. Get FM transmitters so people can dial-in on their radio, or even try to partner with a local radio station.
Dial-In Live Stream
Video conference solutions like Zoom also have a dial-in option. There are also some solutions specific to dial-in streams like PhoneLiveStreaming.com. That means if church members don't have access to the internet, they can still call in and listen to your message over the phone.
Weekly Conference Call
If you have a conference call service, you can set up a weekly call to stay connected. This could be used for a prayer meeting, a regular service, a weekly check-in, or any other meetings that you normally hold. On any phone, your entire church can dial a specific phone number and join the call.
A Daily Encouraging Text Message
A text message is more reliable and likely to be read than an email. And if a person has spotty (or no) internet access, you can still easily send a note of encouragement to your entire congregation. Some church management solutions offer this as part of their service or as an add-on. With the push of one button, you can send a text message to your entire database and stay connected. Options like Text in Church or Clearstream provide standalone text services.
Paper Newsletter
In the digital age, traditional print still has its place—especially if the people you shepherd can't easily access content online. You can create a weekly newsletter and mail it to your congregation. Fill the newsletter with needed updates and a devotional.
Regular Phone Calls
We may not be able to hug our friends, but we can still care for them. Have elders, staff, small group leaders, or other ministry leaders create a regular routine of calling to check-in with church members—especially senior citizens. These calls shouldn't have an agenda. And a simple "stay connected" phone call to check-in will mean a lot.
Because of the changes we're all facing with COVID-19, everyone needs to rethink how we do ministry. As you creatively explore this terrain, we pray that you'll find new (or maybe old!) ways to stay connected with your community.
This article originally appeared here, and is used by permission.