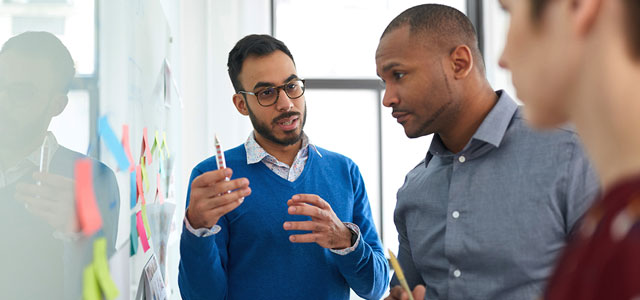 Who should you include on your strategic planning team? We get asked this question a lot by church leaders who are starting The Unstuck Process or considering working with us. After partnering with hundreds of churches over the last 11 years (and working with nearly 100 through the pandemic), we have seen some key themes in what works well for building your strategic planning team. 
You need the right people in the room to get the most out of a strategic planning session. 
When churches work with our team for facilitated strategic planning, we recommend you include 8-12 of your key staff leaders, especially those that have a gift for visionary and/or strategic thinking. But let's break that down and dig into the specifics. 
There are 4 keys you want to consider when selecting the people you include on your strategic planning team:   
Choose Strategic Thinkers
You want to have strategic thinkers in the room. People who can evaluate where you are today and approach the future of your ministry with logic, creativity, and strategic vision. You want people who will approach the planning session with the long-term goals and mission of the church in mind. 
Focus on Prayerful Discernment 
It's essential to have prayerful, discerning people on your strategic planning team. You want these people to be all-in on God's vision for your church and aligned spiritually, so that they can help prayerfully determine the direction God is calling your church to go. It's easy to get in a room where everyone has an opinion. You want a team of people who will listen to the Lord and have His voice shape their opinion. 
Pick People Who See the Big-Picture 
Anyone who has done planning sessions knows all too often you can get bogged down in the weeds and details of day-to-day ministry. Choose people for your planning team that can see the big-picture and are for the church as a whole, not overly focused on just one area of ministry. You need people who have a big-picture perspective.  
Find People with a Bent Towards Action 
Here at The Unstuck Group, we like to say execution is everything. Ideas are easy—planning isn't the hard part. Actually putting your strategic plan into action—and measuring your results—is.
So as you consider who to have on your team, make sure you choose people with a bent towards action. The ones who will get in the trenches and turn the ideas you write on paper into active ministry. 
While there is never a perfect strategic planning team, having the right people in the room significantly increases your ability to create a successful strategic plan and execute on it. 
An outsider perspective is also incredibly helpful in strategic planning.
If you need help with your church's strategic plan as you become a hybrid church or strategic planning for your digital ministry strategy, let's talk. 
This article on selecting a strategic planning team originally appeared
here
, and is used by permission.