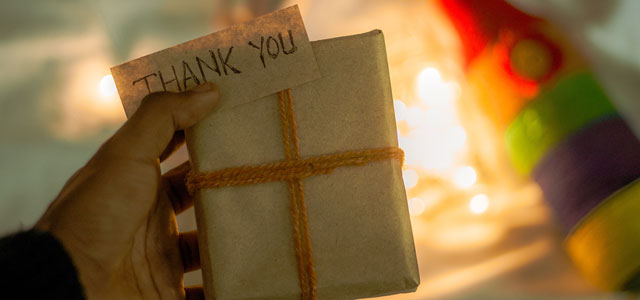 Christmas is an easy time to recognize gifts. They come wrapped in festive paper. Sometimes extra special bows. Often we're sitting in a room with other people we love, watching one another open the presents that we so thoughtfully chose.  When the gifts are so obvious, our responses come automatically: "Thank you!" (Even if it's another ugly sweater, or a cooking pot we don't really need). But really, regardless of the gifts, most of the time we mean the "Thank you." Because someone thought to give us something. 
And thus the exchange is complete. All the gift really requires—all any one is really looking for—is a genuine "Thank you," that we recognize gifts.
Most of life's gifts (perhaps the very best ones) don't come wrapped in festive paper or special bows. They come in ordinary garb. There's no glitter or fanfare. They're often small and quiet, almost invisible. There may be no one actively watching us when we receive them. 
But still, all the Giver really wants is a genuine "Thank you." 
Every good and perfect gift is from above, coming down from the Father of the heavenly lights, who does not change like shifting shadows.

James 1:17
O great Giver of all that is good, may I slow down enough, may I quiet down enough, may my eyes be clear enough, that I might notice your gifts. And then may my heart be moved to genuine gratitude for your generosity and thoughtfulness. Amen. 
This article on how to recognize gifts originally appeared here, and is used by permission.