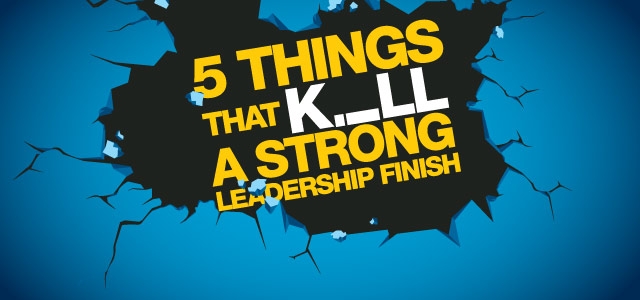 I was recently in a meeting discussing the future of an evangelical movement. The person I was with shared a great challenge — one of the most prominent leaders of their movement was not finishing well, making it hard for the movement to envision a successful future.
That conversation soon turned to why this happened — and how it happens elsewhere. Within a few minutes, we had identified four others who showed similar patterns. They were all older leaders, were immensely respected, yet who were finishing poorly, griping, complaining and often undercutting those who will likely become their successors.
My guess is that you would not be surprised with some of the names, and you could probably quickly identify others in your own movement who have done the same, but that is not really the point.
After our meeting concluded, I continued to ponder the situation even more.
Why do some leaders end so well — Calvin Miller, Jack Hayford, Bob Russell, Roy Fish and so many more- — while others go out not in a blaze of glory, but in a blaze of gory? They finish poorly and leave a mess in their wake. In some cases, they even undo some of the tremendous progress God used them to create in the years prior.
They have all been key leaders — and some still are — though many of those who have followed in their stead are ready for the former leaders to move on to greener pastures, other ministries or just down the road. That grieves me and makes me wonder why some leaders don't finish well, as the Bible often reminds us to do.
I think there are some common factors shared by those who don't end well. Here are my five observations:
1. They did not trust the very people they developed for succession.
In all the cases (there were no exceptions in the leaders considered), they had obvious successors with whom they were disappointed.
In some cases, the outgoing leader actively tried to get yet another successor to replace their original successor (without, it appears, considering they might also be disappointed in the replacement successor). Those who are not finishing well seem to always be dissatisfied with who succeeds them, almost as if they are looking for, but unable to find, a clone of themselves.