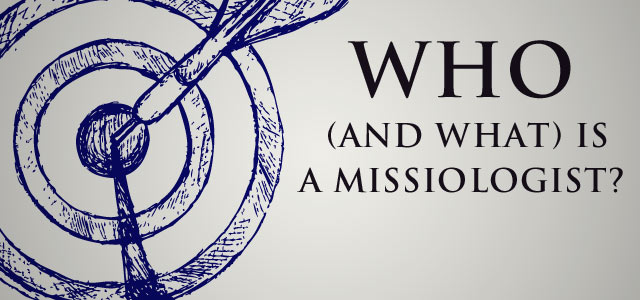 The Tools of the Missiologist
Missiology is not only grounded in theological reflection, it is also grounded in anthropological/sociological research. Missiology requires thoughtful engagement with the human situation in light of theology and the task of Christian mission. As a missiologist, I use the tools of qualitative and quantitative research to gain greater insight into the mission field.
Essentially, missiological research is guided by specific questions aimed at seeking to understand the culture and society in which the church is situated. This research is carried out by formally specified procedures designed to gather, measure and interpret data. All this work is done with the aim of equipping the church to minister in ways that are not only spiritually meaningful, but also in ways that are situational and structurally beneficial for society as a whole. As a missiologist, I help the church understand what it means to be a faithful presence in this broken world.
The Team of the Missiologist
While the church has specialists called missiologists, all thoughtful Christians engage the world in a missiological way. All followers of Christ have been entrusted with the message of the gospel (2 Tim 1:14) and given the mission to make disciples wherever they go (Matt 28:19-20, Mark 16:14-18, Luke 24:44-49, John 20:19-23 and Acts 1:4-8). The gospel transforms people, and thus transforms how those people live in the world.
Lesslie Newbigin talked of the church's relationship to culture as missional in nature. The church is on the front lines of interacting with and impacting culture, and is the team that a missiologist coaches.
The church is called to embody the demands of the gospel as the kingdom way of life, as a credible alternative of living in a fallen world. This is the task of contextualization.
A missiologist comes alongside the church and helps her think critically about the task of contextualization. As a missiologist, I argue that the church should aim for a balanced approach in which interaction with people and culture is both compatible with biblical truth and sensitive to particular people groups. In other words, the church should proclaim and embody the gospel in ways that are biblical, faithful, meaningful and conversational.
My goal is to help the churches and Christians who intentionally think missionally to do it better.
I am very aware that without intentionality, churches become less contextual, less indigenous, less focused on mission and less evangelistically effective over time. The final result is a church that is not faithful to its biblical mandate to engage and transform culture with the gospel.
My goal is to help the churches and Christians who intentionally think missionally to do it better.
As a missiologist I humbly stand as a prophetic voice to the church, calling her to remain biblically faithful, culturally sensitive and missionally focused.
That's what a missiologist is — and what a missiologist does.