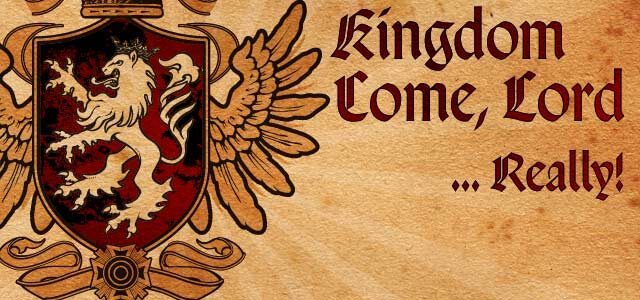 Consider these 14 words from the Sermon on the Mount. "Your kingdom come, your will be done, on earth as it is in heaven" (Matthew 6:10).
Have these words lost meaning through overfamiliarity? I suppose that's a question each of us will need to ask ourselves. But let's take a quick and simple look at these words.
Your kingdom. So we're talking about something that does not belong to us; that is beyond us and transcends us. We are talking about honoring and serving God, the Sovereign One, the Holy One. We are facing here the Triune God and his priorities.
Your kingdom. The kingdom of God. In an important sense, kingdom is a metaphor. We don't fully know what we're talking about, or praying for.
But the New Testament uses two other terms that help us: mystery and economy, or plan. Mystery: It's much more than we can figure out, and comes in ways we often don't expect. But there is a secret (mystery) to it that centers in Jesus Christ.
And economy, plan and purpose, oikonomia. God is up to something big, and it's not vague. It has purpose and direction and ultimate finality to it. Its finality is everything in creation brought into proper reconciled relationship, shalom, under the mastery of Jesus Christ (Eph. 1:10).
In fact, Jesus very nearly defines the meaning in the parallel phrase here: "Your will be done on earth as in heaven." What is the plan, purpose and mystery? It is breathtaking in its ultimate simplicity: God's will done on earth. So the other key word here associated with kingdom is will, the will and purpose and intention of God.
Come is the next key word—a stupendously rich word in Scripture, as we know. Come! "Come unto me." The coming of the Day of the Lord.
Here, the point of course is: May the full purpose, power and reality of God's kingdom really, actually appear now, in our midst and time, and also finally, ultimately.
Your will—these are the next words. The point here, in context, is this: The kingdom of God is not some abstract reality, not some theoretical social program or mere spiritual theorem. Not just a nice inspiring concept to make us feel good or comforted. It is much more even than a plan or project—though it is also, derivatively, that.