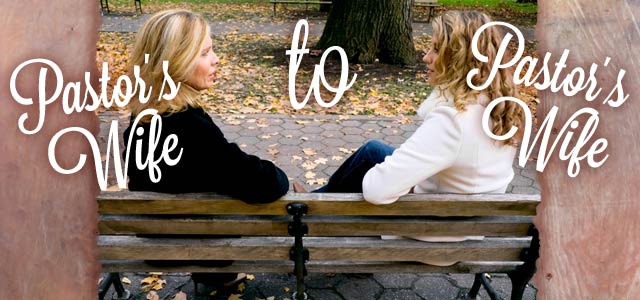 A word to pastors' wives, from my wife:
I love being a pastor's wife. It truly is whom God has called me to be in this season of life. Every day is not easy, but when I'm serving as God intended for me to serve, I'm never more fulfilled in life.
That's why I decided to share this advice to pastors' wives. Here is my advice:
Don't try to be something you are not, and don't be afraid to be yourself.
So often, we have a picture in our head of what a pastor's wife is "supposed" to look like. I did before I was one. Of course, she plays the piano and/or sings in the choir, she bakes the most wonderful desserts, and she is active in every ministry the church and community have to offer.
She can quote scripture in every sentence, her marriage is always perfect, and … oh yeah … she is the mother of 2.5 PERFECT children. And the sad thing is, often we (as pastors' wives) beat ourselves up if we don't meet all or at least several of these (self-imposed) expectations.
I'm not sure if it is because Ron and I surrendered to the full-time vocational ministry later in life, but I soon realized if these were the expectations then I was in big trouble. People closest to me have never suggested I join the choir. I played a bassoon in high school, which very few churches have a use for these days. I don't cook. (I'm blessed to be married to a wonderful husband who does!)
I have typically worked full-time outside the home, and I still have to use the table of contents in the Bible occasionally. (That's the result of coming to Christ as an adult. Praise God for children's church.) Yet, God still called "me" to be a pastor's wife! (And, I'm still wondering why some days.) BUT, I do have to say that I do have two pretty amazing sons. Nearly perfect as they appear to me.