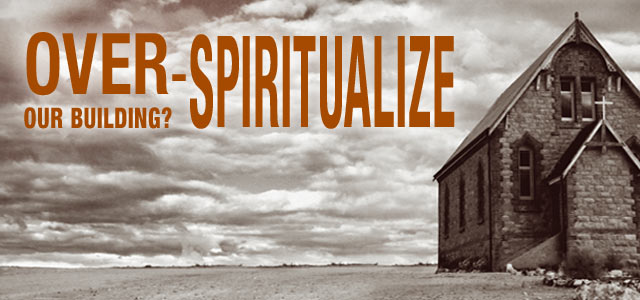 Recently, our local church decided to enlarge its building. More space is needed for worship and other activities, so the church plans to remodel its existing facility now, and later build a much larger sanctuary.
This is a common experience for growing churches, or little churches on the way to becoming megachurches. More space has to be found, either by expanding the existing building or by relocating to a larger building in a different location.
It is also very common, I have noticed, for a church to spiritualize its church building projects—that is, to describe the project in glowing spiritual terms, as though this were God's project, not our own. The project may be described as a vision given by God, or even (almost heretically) as "building God's house." Often, slogans like "Forward in Faith" or "Building God's Kingdom" are used. Call it Divine Hype.
This is dangerous. The Bible warns: "The Most High does not dwell in houses made with human hands" (Acts 7:48); "the Lord of heaven and earth … does not live in temples built by hands" (Acts 17:24). Stephen quoted God's word in Isaiah 66:1, "Heaven is my throne, and the earth is my footstool. What kind of house will you build for me?" (Acts 7:49). It got him in trouble.
The tabernacle, and later the Jerusalem temple, were prominent in the Old Testament. And yet, the temple and its worship could come under judgment. God promised to be present in the temple—as long as the people were faithful. If the people were unfaithful, the temple would become an abomination. "Do not trust in these deceptive words: 'This is the temple of the Lord, the temple of the Lord, the temple of the Lord'" (Jer. 7:4).
The New Testament teaches clearly that now, since Jesus has come and risen from the dead, the church itself—the community of God's people—is God's temple. A building can never be a church. It is never the dwelling place of God. God's Spirit fills the whole universe, and he dwells especially in faithful communities of believers. As Paul says, the church is "a dwelling in which God lives by his Spirit" (Eph. 2:22). Paul is talking about the Christian community, not a physical building, when he says that in Jesus Christ "the whole building is joined together and rises to become a holy temple in the Lord" (Eph. 2:21).