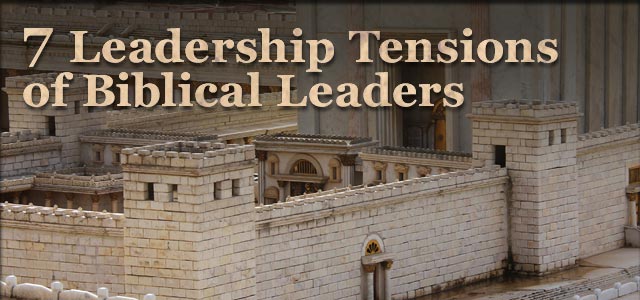 I meet with a group of Christian senior level leaders in my community every couple of months. They lead large organizations in government, business, nonprofit and, represented by me, the church. They are all experienced and successful leaders, who happen to also love Jesus. I learn great things from them each time we meet and feel privileged to call them friends.
Recently, I opened our discussion by sharing seven examples of leadership tensions found in the Bible. It provided for a great discussion. My question was simple: Of which of these stories can you most identify with currently? It was interesting that all of us had experienced each of these at some time, but could specifically identify with one or two of them currently.
I decided it was a blog worthy topic … but especially if you participate. Which of these are most representative of your current leadership tension? (Add a quick comment to this post, if you will, as I'd be interested to see which are the most common among my readers.)
Seven leadership tensions of biblical leaders:
David—Fighting a giant.
Joseph—Preparing for the future. (Maybe a bleak future.)
Paul—Addressing a changing culture.
Gideon—In over your head.
Moses—Overwhelmed with responsibility.
Abraham—Leading into an unknown.
Noah—Standing alone in obedience.
There are a few possible takeaways you could get from this post.
You can identify that you are not alone in your struggles … they even have biblical examples.
You can use this as an exercise to discuss with other leaders in your circle of influence … and find suggestions and solutions together.
You can, if needed, consider forming your own leadership circle of influencers. This type of thing has been invaluable to me over the years.