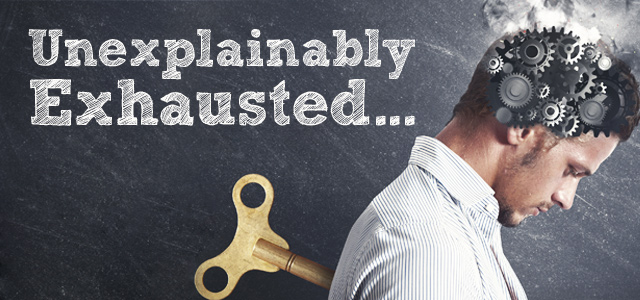 Growing up on a farm, there was never a shortage of the things boys love to do. When my parents purchased the farm, part of the deal was an early '80s Farm King riding mower. The bad boy quickly became mine and my brother's baby.  Easy to drive and with tons of power, the King was unstoppable.
Unstoppable until the summer we hired a helping hand who unintentionally killed the King. Here's what he did and why the same mistake is leaving you unexplainably exhausted:
As stupid as it sounds, the guy forgot a tractor runs on more than gasoline. At first, the assumption didn't hurt anything. But a day turned into a week, a week a month and next thing you know KA-BOOM! The engine was done. It had been ran too hard for too long—without oil.
Living on Low, Running on Empty
Unfortunately, most of us are making the same mistake. We've assumed we can do what we're supposed to do and be who we're supposed to be as long as we have three square meals and our multivitamin.
Nothing could be further from the truth.
God has gone out of His way on multiple occasions to say: "Man cannot live on food alone."
"And he humbled you and let you hunger and fed you with manna, which you did not know, nor did your fathers know, that he might make you know that man does not live by bread alone, but man lives by every word that comes from the mouth of the Lord. Your clothing did not wear out on you and your foot did not swell these 40 years." —Deuteronomy 8:3-4
Why You're Unexplainably Exhausted
When God created man in Genesis 2, it reminds me of Frankenstein—man had been created, but was just laying there until the switch flipped. We're told that the Adam came alive when God breathed the life of His Spirit into him … "He's Alive!"
As God's creation, we are body and spirit, and BOTH require fuel. When fed, they ignite His intended power and purpose.
Could this be it?
It makes me think of the time Jesus and His disciples were traveling and stopped in Samaria to take a break. The disciples went to find food while Jesus went to rest. When the disciples returned with food, they were perturbed because Jesus was doing more work when he was supposed to be resting. They voiced their frustration: "You need to take a break and eat something!"
Oops! I can only imagine the look on Jesus face: "My food is to do the will of him who sent me and to accomplish his work. —John 4:34
Nothing's Changed
Do you feel unexplainably exhausted? Maybe you even eat healthy and work out two to three times a week but still feel this way. Any idea why?
Could it be that you've fed your face but starved your spirit? I have.
The life breath of God is just as needed today as it was in Genesis 2.
Test it for yourself. Next time, before you fast from physical food, really try to discover and focus on the spiritual purpose for the fast. You'll be blown away by the difference—you won't feel as physically hungry because you'll still be eating. This time, you'll just be feeding your spirit—which makes a noticeable difference.
Job got it right when he said: "I have treasured the words of his mouth more than my portion of food." —Job 23:12
Wanna get away? You don't have to. Feed your spirit by feasting on His Word.