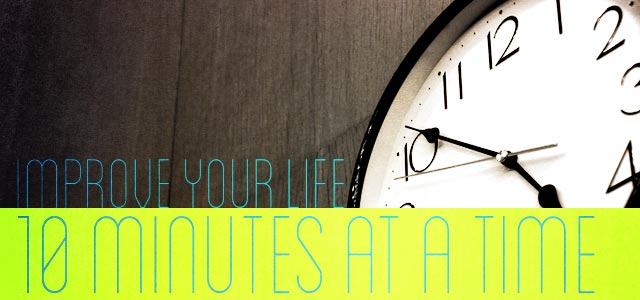 If someone were to ask you, "What is the one thing I could do today to improve the quality of my life?" what would you say?
There are lots of good answers:
a. Eat healthier.
b. Exercise more.
c. Count your blessings.
d. Slow down.
e. Buy a cat (well, maybe not).
f. Read the Proverbs.
g. Pray.
My response: Spend 10 minutes today in the presence of your creator. Even better, make it the first 10 minutes, and it will direct the course of your day. Better yet, let it become an addictive habit.
Think about that—addicted to the presence of God.
It can happen.
Honestly, prayer has always been a challenge to me. I've tried journaling, A.C.T.S., prayer walking, confession, the Lord's Prayer and just about everything else you can think of. All of them good. Most of them I still do. None of them addicting to me.
I am addicted to 10 minutes in the presence of God. It is changing my life.
Here are a few of the things it does for me:
1. Helps to calm the voices that cry for immediate attention but actually distract from my overall purpose.
2. Refreshes my spiritual man.
3. Reminds me that I am a part of something bigger and more important than I can possibly imagine.
4. Gives me the energy I need to face the day.
5. Makes me desire to engage in the practices of prayer that have always been challenging for me.
6. Allows me to actually experience God's love for me.
7. Makes me want to repeat the 10 minutes as often as I can.
The thing I'm referring to has been practiced by Christians down through the centuries and called by various names. Some have referred to it as: silence, solitude, contemplative prayer, meditation, practicing the presence of the Jesus, resting in the Spirit, praying in the Spirit and probably several other terms.
In the Bible:
a. Joshua is challenged to meditate on God's word day and night (Joshua 1:8).
b. The Psalms make at least a dozen references to meditation.
c. Psalm 46:10 says to be still and know that I am God.
d. Isaiah 26:3 says that God will keep in perfect peace the man whose mind is "stayed" on him.
It is not without controversy. Some would associate it with Buddhism or New Age practices. I would argue that the Buddhist goal of meditation is to completely empty the self, while the Christian goal is not just to empty, but to be filled with the love and presence of God.