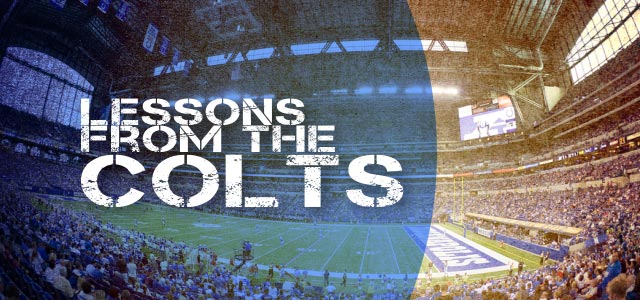 Read Greg Surratt's first two lessons here.
Previously, I began to share some things I learned from spending a weekend with Clyde Christensen, one of the coaches of the Indianapolis Colts.
I became a fan.
I now like them almost as much as I like the Broncos.
Almost.
Here's What I Learned From the Colts:
1. It's my job to contribute to a healthy culture.
2. It's my job to get better every day.
3. It's my job to make the people around me better.
Everybody—linemen, running backs, nutritionists, operations guys, coaches—are responsible for the guy next to them. That's why they call it a team sport.
I saw it in the lunch room. I saw it on the field. I saw it from the coaches. Coach Clyde is constantly trying to figure out how he can master the craft of teaching and coaching, not so he will sound better, but so the guys will learn quicker and more completely.
When you get a guy overly concerned about his own stats rather than how he can serve the purposes of the team, you have the beginnings of a crack in team unity. Opposing coaches are looking for an edge. "Where are the cracks? Where are the weaknesses we can exploit?"
Ask yourself: What am I doing to make the team better today?
If you aren't thinking team, then everyone else will pay for your selfishness.