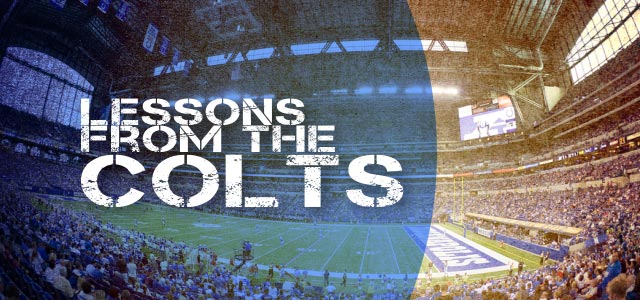 4. It's my job to defend our house.
Winning at home was a big deal. The coaches and players put a lot of emphasis on defending the house.
The week I was there, the Denver Broncos came to town. They were riding a six-game winning streak, and Peyton Manning was coming back to Indianapolis for the first time wearing an opponent's jersey. Emotions were high, on the field and in the stands.
The Broncos All Pro linebacker, Von Miller, was also making his season debut after being suspended for the first six games. He is a ferocious pass rusher and overall disruptive force to opposing offenses.
The Colts coaches worked very hard on a game plan to defend the house. Miller's number 58 was circled on whiteboards in the offensive war rooms. They listed his tendencies, weaknesses and strengths. They wanted the Colts quarterback to know where #58 was at all times.
Their planning paid off.
Miller got zero sacks.
The Colts won.
They defended the house.
The Bible says we have an enemy that wants to kill, steal and destroy you, your dreams, your business and your family.
Here's the question: Do you have a game plan for defending the house? How alert are you to your enemy's strengths, tendencies and weaknesses? How about your own? Does the team know that you are on time, alert, working hard to make sure that it's not going to happen on your watch?
I came away from that incredible weekend with a great deal of respect for the Colts organization. I also came away wondering if they treat a game with more respect sometimes than we treat our mission.
I'm committed to doing all I can to contribute to a healthy culture, get better every day, make the people around me better and defend the house.
How about you? Can the team count on you?