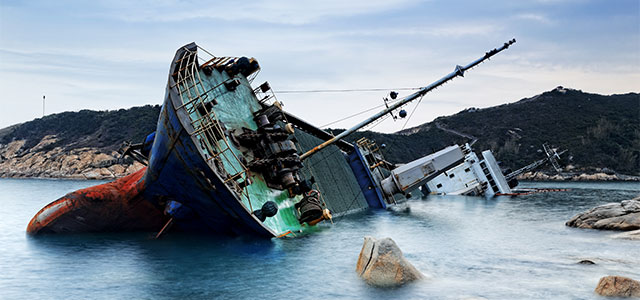 "The water should be deep enough here." Many a ship's captain has believed that lie, and many of their ships have ended up stranded on a sandbar or dashed against a reef. It's a picture of a leadership shipwreck.
There are lies that leaders are tempted to tell themselves every day. And some of these bring leadership shipwreck, too.
In my experience, these are some of the most dangerous lies a leader can ever tell themselves. Start believing these and you could easily find your leadership dashed on the shore.
3 Lies That Bring Leadership Shipwreck
1. "I got away with it last time. I can get away with it this time."
There might be nothing worse for a leader than to have once cut a corner and gotten away with it. Because the next time an opportunity presents itself to shave the truth or to take a financial short cut, the temptation can be almost irresistible.
"After all," a leader can think, "borrowing that money from petty cash last time was OK. I returned it before getting caught. I can get away with it again this time."
Eventually, this leads to the leadership shipwreck of integrity.
2. "It's just a one-time thing."
The idea that an off-side action can be justified "just this once" is one of the worst lies of all.
Because leaders who believe this once can begin to believe it repeatedly.
And when that happens, a leadership shipwreck isn't far behind.
3. "It's OK. No one will notice."
This leadership shipwreck lie is a doozy.
It happens when a leader has dropped a leadership ball and, rather than coming clean and owning up, the leader instead pins hope against hope that no one was watching.
Instead of accountability, this leader is counting on being able to fly below the radar. "After all," they'll reason, "If no one picked up on the financial blunders, I'm in the clear."
No leader ever starts out wanting to abandon their impeccable character. Leadership shipwrecks happen one little lie at a time.
So keep your radar on full alert for lies like these.
Because if you can identify and resist these kinds of lies, your leadership can sail strong for years to come.
What are some other lies leaders are tempted to believe?
This article about leadership shipwreck originally appeared here, and is used y permission.