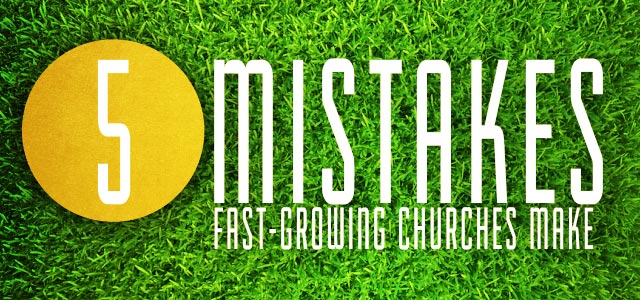 If you've ever been a part of a fast growing church you know how much fun it can be. New people who are unfamiliar with Jesus begin attending, friends are bringing friends, you're adding new staff members, you're building buildings, you're starting new ministries, and most important of all people are meeting Jesus and being baptized. Often times in a fast growing church it can feel as though you have so much momentum that as long as you don't do anything drastically wrong you'll ride that wave of momentum forever.
Over the past 19 years of full-time ministry I've been fortunate to personally work at some fast growing churches. And now in the past few years working with theUnstuck Group I've had the privileged to watch churches take courageous steps to get unstuck and begin experiencing significant growth for the first time in years.
If you've been in ministry for any length of time you know that momentum won't always be on your side, growth won't always be taking place, and things won't always be up and to the right. Often momentum is lost when things are at their best because churches don't know how to behave when things are going well. In fact below are the 5 biggest mistakes I've seen fast growing churches make.
1. They Implement too many Policies
To borrow an idea from another post I wrote called "Why Policies are Bad for your Church…"Policies are rules that shrink the box of creativity, problem solving, and big ideas. Policies set the standard for how we do what we do every time we do it. And that's fine if we're on an assembly line making cars. You want consistency in that situation. But disciple making is not the same thing as making cars. Too many policies will stall the growth of any organization, including your church.
2. They Fail to Prepare for Lean Moments
During seasons of fast growth churches are notorious for living "hand to mouth," and leveraging every dollar in an attempt to ride the wave of momentum and keep things going. Not only is this thinking naïve, it's an unbiblical approach to finances. Take a quick read of Proverbs and you'll find plenty of encouragement from Solomon (the wisest & wealthiest man to ever walk the planet) to save for a rainy day.
3. They Overreach
Bill Gates the Co-Founder of Microsoft once said that, "Success is a lousy teacher. It reduces smart people into thinking they can't lose." Winning can be addicting and it lulls you into thinking that you can't lose. As a result many fast growing churches overreach. They extend further than they can support and bite off more than they can chew. As a result of their lack of discipline they unknowingly undermine their own growth.
4. They think the Staff Team will Continue to keep pace with the Growth
While it would be great (and romantic) to keep the same staff team that got you where you are, unfortunately it's not always realistic. It's not strange that a particular staff person is exactly what's needed during a certain season or stage of growth. But it is a rare thing that those same team members are able or willing to go through the necessary personal changes to continue to lead as the ministry becomes more complex as the church grows.
5. They don't know Why they're Growing
If you don't know why you're growing right now you won't know what to do when the growth begins to slow, or worse it just flat out stalls or begins to decline. You'll begin to grasp at straws, mimicking others methods that have experienced success instead of leaning in the core cultural identity and vision that God has given you.