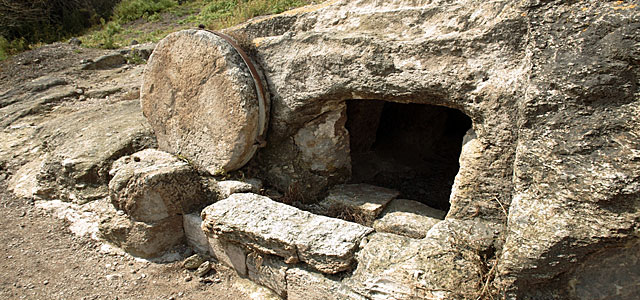 Where, O death, is your victory? Where, O death, is your sting? ~ I Corinthians 15:55
READING: I Corinthians 15:12-19
At the Battle of Waterloo, on June 18, 1815, the French army under Napoleon's command fought the allied forces of the British, Dutch and Germans under the command of Wellington. The English people in Great Britain depended on a system of signals to find out how the battle was going. One of these signals was on the tower of Winchester Cathedral.
Late in the day it flashed the words: "WELLINGTON DEFEATED." Just then a fog cloud rolled in, obscuring the tower. News of defeat quickly spread throughout the city. The whole countryside was sad and gloomy when they heard the news that their country had lost the war. Suddenly, the fog lifted from the tower revealing the rest of the message. The message had four words, not two: "WELLINGTON DEFEATED THE ENEMY!" It took only a few minutes for the good news to spread. Sorrow was turned into joy; defeat was turned into victory!
When Jesus was laid in the tomb, hope died in the hearts of Jesus' most loyal friends. After the frightful crucifixion, the fog of disappointment and misunderstanding had crept over the friends of Jesus. They had read only part of the message. "Christ defeated" was all they knew. But on the third day, the fog of disappointment and misunderstanding lifted, and the world received the complete message: "Christ defeated death!" Defeat was turned into victory; death was turned into life! This is the power of the gospel and the resurrection life.
Father, We thank you that the message we have to proclaim is that defeat has been turned into victory and death has been swallowed up by resurrection power. I ask that today and into the future more and more of your power will be made manifest in our ministry. Amen.
Dynamic Church Planting International (DCPI) "Equips Leaders to Plant 5 Million Churches Worldwide."
Learn more