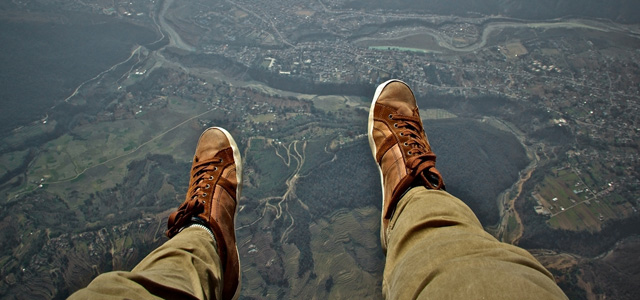 They shall mount up with wings like eagles. ~ Isaiah 40:31 (ESV)
READING: Isaiah 40:9-31
For my 50th birthday, my wife gave me an unusual present – a paragliding lesson. A paraglider is a fabric wing attached by suspension lines to a harness. You strap on the harness, run forward, the sail fills with air – and you're flying!
For four hours my instructor taught me how to fit into the harness, climb up the hill to varying elevations, and then run downhill as the sail behind me popped open to catch the wind. I was tethered to my instructor like a human kite.
Finally, exhausted from hours of climbing up the hill, he told me I was ready to solo. Actually he was far more confident than I that I was ready. But we climbed the 750 feet to the top of the hill, and I ran for the edge. I could feel the wing fill, and suddenly I was airborne!
I had a walkie-talkie strapped to my chest, and my instructor gave me instructions as I sailed high above the ground. For ten minutes I glided through the air like a giant bird. It was exhilarating! My instructor's voice guided me to start my descent for an easy landing at the bottom of the hill.
My paragliding adventure reminded me of church planting.
Church planting is exciting, dangerous, and a little bit crazy. You won't succeed without the support and encouragement of others. (Without Dionne's enthusiasm, I would never have tried this!) When the time comes, you have to "launch." Lean into the wind and trust the Holy Spirit to "lift" you. And remember – obeying your "Instructor's" voice (through His word) during your "flight" is essential.
Lord, Fill me with Your Holy Spirit today. I depend upon His lift and power to make this church planting all You want it to be. Amen. 
Dynamic Church Planting International (DCPI) "Equips Leaders to Plant 5 Million Churches Worldwide." Learn more