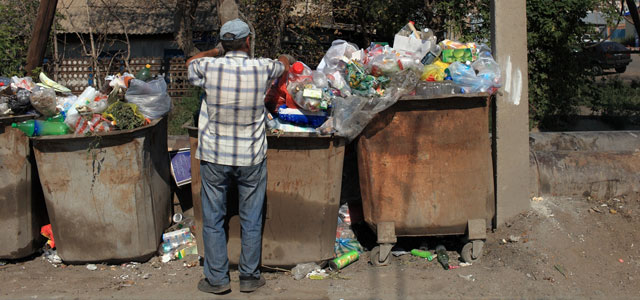 …even we have believed in Christ Jesus, that we may be justified by faith in Christ, and not by the works of the Law; since by the works of the Law shall no flesh be justified. ~ Galatians 2:16 (NASB)
READING: Galatians 3:10-14
The practice of recycling is almost routine in the United States. There is somewhere to take everything that has lost its value and usefulness. Thrift stores receive clothes, toys, luggage and household goods. Recycling centers take discarded appliances, electronics and metal.
There are recyclers in Colombia, too. They are usually gaunt, disheveled men actually called "recyclers." Carrying large tarp bags, they walk through neighborhoods where trash has been put out. They devotedly collect their preferred scraps: cardboard, plastic, glass, etc. After a long day of work rummaging for their payload of recyclables, you see them walking the streets destined for an appropriate recycling center where they will be compensated a few pesos. Their tarp bag, filled to capacity, is tossed over their backs. Usually the only thing you can see from underneath their bulky bag of scrap is their feet!
As a church planter, Paul had to deal with Judaizers who pushed to recycle a commitment to the law. Paul explained to the Galatians that the law pronounces a curse on everyone who fails to keep the law in its entirety. All who hope to gain God's favor by keeping the law are exposed to a curse. The good news is that "Christ redeemed us from the curse of the law, having become a curse for us."
Some insist on carrying a hefty bag of garbage on their back that is nothing more than a curse of the law from whatever genre of belief system they left. But the gospel proclaims freedom from legalistic practices, a freedom that comes from the righteousness that is lived by faith.
Father, Help me to walk in my freedom in Christ. Amen. 
Dynamic Church Planting International (DCPI) "Equips Leaders to Plant 5 Million Churches Worldwide." Learn more