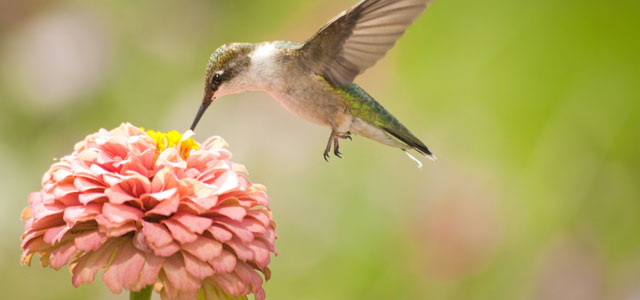 What do you have that you did not receive? And if you did receive it, why do you boast as though you did not? ~ I Corinthians 4:7
READING: I Corinthians 4:1-7
The tiny ruby-throated hummingbird harrumphed at our empty bird feeder and darted over to my window to twitter his displeasure. Oops! I quickly took down my feeder with its four plastic blossoms and refilled it with sugar water. That's better.
Within a few minutes the bantam warrior returned, taking up his favorite position on the azalea branch, and buzzed into action to chase away any other hummingbirds who happened by looking for a drink.
"That's my feeder! How dare you take what's mine! Mine! Mine!"
Although most birds remind me to trust God, hummingbirds usually remind me of my sin nature. And watching my pint-sized pirate defend "his" territory, I thought of times I act as badly.
In I Corinthians 4:7, Paul asked those carnal Christians some very good questions.
How often have we prayed as fervently as my harrumphing friend for some gift from God, and then turned around to gloat when we received it? As church planters, how often have we hoarded our trained workers and other resources after our church plant has become established instead of freely sharing our supplies? It's so easy to forget that every blessing,every ability,every achievement comes from God's hand – even our next breath.
Our "feeders" would stay bone dry if God did not faithfully fill our lives with everything we need each day.
Father, Help me to remember how patient You are with me and how unfailingly good. And help me, with a humble heart, to share today the bounty You have given me with others who buzz around my azalea branch. Amen.
Dynamic Church Planting International (DCPI) "Equips Leaders to Plant 5 Million Churches Worldwide." Learn more