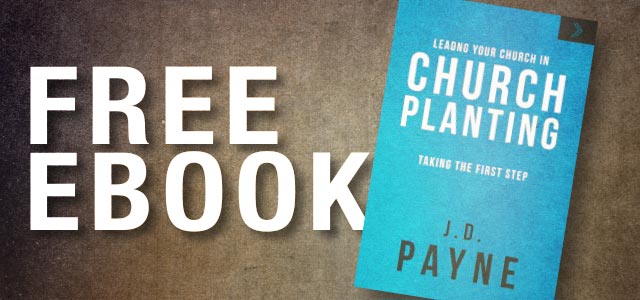 Free eBook: Leading Your Church in Church Planting
Download this free eBook — available in PDF, Kindle, or EPUB versions — from author and pastor J.D. Payne, Leading Your Church in Church Planting, and share it with those who are taking their first steps in church planting.
Payne describes his book in the following way, "This 62-page work is designed to encourage and provide some guidance for pastors considering such missionary work. While some elements of this book will be of value to pastors who are already leading their churches in church planting, this resource was not written with them in mind. The content is very basic. It is written for those approaching the starting line–not those already in the race."
This eBook could be particularly helpful in those all-too-common circumstances where a church planter presents encounters people who are skeptical about church planting itself, often voicing objections such as, "Aren't there already enough churches?" or "Where would you even begin this process?"
Payne's work could also be a helpful go-to resource for your leadership team, especially as a common point of reference or foundation for conversation and prayer. Payne writes from a wealth of experience. He serves as the pastor for church multiplication with The Church at Brook Hills in Birmingham, Alabama. Before this, he served for ten years with the North American Mission Board of the Southern Baptist Convention and as an Associate Professor of Church Planting and Evangelism in the Billy Graham School of Missions and Evangelism at The Southern Baptist Theological Seminary in Louisville, Kentucky, where he also directed the Center for North American Missions and Church Planting.
Chapters from this eBook include:
Some Resources to Get You Started
Five Steps for Vision Casting for Multiplication
Anticipating Objections to Church Planting
Resource provided by J.D. Payne

Download Instructions: To download this resource, right-click on the link that says "Leading Your Church in Church Planting: Taking the First Steps" and choose "Save As."