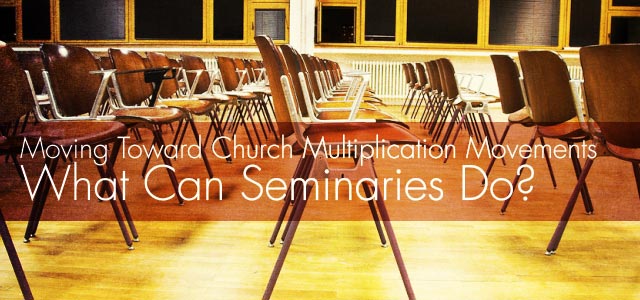 A denomination must hold to the value of multiplying churches for a multiplication movement to occur in—rather than in spite of—that denomination. Part of that is having seminaries be an effective partner. In the past, I've written about the importance of seminaries equipping students to live on mission.
Now, to be fair, seminaries are not tasked exclusively—or even primarily—with the role of making church planting pastors and missionaries, but it is certainly part of how they can participate in the Great Commission. Furthermore, many are indeed doing these very things, so this is written more toward those who are not yet significantly involved.
What Seminaries Do
Seminaries are often shaped to produce theologically-formed scholar/pastors who may very well serve in a church planting or other ministry context. Yet, it is an unfair expectation to ask any seminary to specifically become a church planting school unless that is why it was founded. However, I do think it is very appropriate to ask a seminary to be a partner in training and creating a church planting ethos, which can lead to an effective Church Multiplication Movement.
To review, there are five elements a denomination needs to help facilitate a Church Multiplication Movement:
a. leaders who have the same vision to build the momentum
b. successful multiplication stories
e. seminary support
I want to focus on the value of having seminary support and promote involvement in church planting.
I've written a journal article related to this already, but it is almost 10 years old. In the coming days, I will be sharing some additional ideas presented recently at Asbury Seminary. For now, here are some broad thoughts on how it relates to seminary involvement.
Starting a Church Planting Discussion on Campus
Seminaries are not always the best place to teach leadership—that's usually the role of the local church. Seminaries should, however, cultivate serious partnerships with churches that would send and create leaders whom the seminary could help theologically shape. In that educational setting, the leaders can become well-formed and well-informed, particularly as it relates to church planting and multiplication.
The same can be true with church planting.
A seminary should have a church planting emphasis, and I will share some suggested applications of that emphasis in a forthcoming post.
However, in general, seminaries need to care about planting, and that should be evident in the emphasis of a seminary.
This emphasis on the seminary campuses should be part of a larger push from the denomination. Therefore, key leaders of a denomination can (and should) encourage their seminaries to place a greater focus on church planting—even when that is not where seminaries would naturally lean.