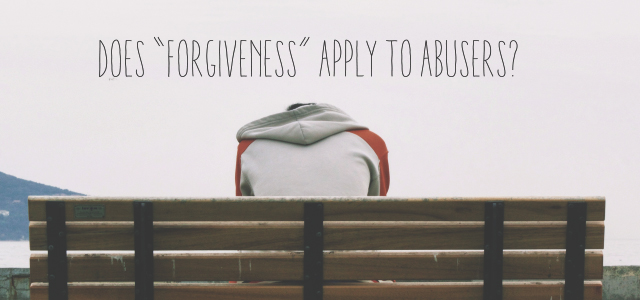 When we Christians use words like "forgiveness" and phrases like "True love keeps no record of wrongs," I find myself wondering how that would apply to certain contexts, namely with victims of abuse (sexual, physical, emotional/mental)? I wonder if we should even be using these words when speaking with victims/survivors of abuse and how it might come off as to them?

For example, when we say to forgive an abuser, what does that look like? Does that mean we forget the harm they did and pretend like everything is OK? Do we welcome them back with open arms? The same questions also apply to phrases such as "love keeps no record of wrongs." I ask because as Christians it would be good to be mindful of what these words and phrases can sound like and that we tend to throw these terms around much without thinking. What is your take on this?

Hey dear friend, I truly appreciate your heart and care in this question. I am with you absolutely 100 percent here. The Christian culture so easily falls into a martyr syndrome that unnecessarily risks our safety, and it so often assumes that "church people" have no pre-existing baggage, which then makes "love and forgiveness" an extremely painful endeavor for the abused.
The thing is, love must absolutely include truth, wisdom, boundaries and grace for yourself. Love is not enabling, pampering, coddling or letting someone off the hook—or it wouldn't really be love at all.
For those who have been abused or traumatized: Forgiveness doesn't mean friendship. No one should ever be rushed into forgiveness for the sake of "getting right with God." We need healthy boundaries. We need to recognize patterns of unrepentant abuse and gaslighting and manipulative language that will only guilt-trip you back into a vicious cycle. We can never mindlessly open the door again on an abusive relationship.
Many well-intentioned Christians try to act the part of a psychologist or social worker or therapist and have absolutely no idea about the real dangers of abuse, codependency and compassion fatigue.
The other thing is that "Christian love" is overly romanticized, where if we just love enough, then we get the Hollywood montage of reconciliation and hugs and high-fives. But having been at the deathbed of many, many patients in the hospital, I hardly ever see it work out that way. Abusers will use up good will and spit it right out. Survivors of abuse have tried again and again to reconcile, only to find out that opening the door to their heart is no better than unlocking the cage of a pack of wolves.
It's absolutely atrocious that preachers harp on forgiveness without listening to the stories of their churches. And still, Christians are slammed with the Bible to "forgive" because "it's the Christian thing to do," without any nuance for individual situations and without, you know, reading the rest of the Bible that says a lot of other stuff about abuse and trauma. God is for the victims, for the abused, for the survivors. God is for the exile, the foreigner, the despised, the despondent who crossed the Red Sea. Jesus told us to be as pure as doves and as wise as snakes. Pure, but wise. Wise, but pure.
There's a destructive idea in Christian subculture that breeds a martyr-hero syndrome, at the expense of yourself, and eventually everyone else. I spent too many years consumed by the "sacrificial radical love" model of Christianity, which required that I pour out more than I had—but it only scooped out my guts and left me bitter and resentful and exhausted. I had to remember that only one person really did love all the way to death so that we wouldn't have to.
My friend once asked me, "Are you trying to be like Jesus, or are you trying to be Jesus? Because you can't be crucified for all these people. He already did that." I had to re-work my idea of love and forgiveness to include self-care and proper distance.
When Jesus was dying on the cross and said, "Father, forgive them," let's notice that Jesus did not say, "Father, help me to forgive them." It was very specific wording. In other words, Jesus was concerned that his murderers would find forgiveness from God, but not necessarily that Jesus would "feel forgiveness" toward them. Jesus was concerned for the destiny of their souls, but also deliberately not condoning the murderers' behavior.
This is a perfectly balanced love that cooperates with truth. Of course, Jesus did offer forgiveness to them, and to everyone else who was ever born, and we're called to work toward such divinity. But no, we're under no such illusion that we must befriend those who have hurt us or hurt the ones we love. Jesus may pour out unlimited grace from a cross, but each of us are finite beings, with limited resources, who must go to Jesus who says, "Come to me, all you who are weary and burdened, and I will give you rest."
Since I've started working alongside social workers and psychologists, I was at first surprised at how blunt and to-the-point they were. But they've seen hundreds, maybe thousands, of abusers and victims, and they've heard all the excuses and rationalizations. They know that victims feel obligated to stick up for their abusers and that abusers will hijack language around forgiveness to be taken back. The medical staff's sole goal here is to advocate for the victim. That requires tough talk, no bull-crap, no beating around the bush, but actual love that's as sharp as surgery, for both sides. The victim needs to know it's OK to call the police and get a restraining order and defend themselves. The abuser needs to know they're actually an abuser and that "forgiveness" is not some cheap ace-card that glosses over all they did.
In that kind of love, people are held accountable and responsible, because that sort of love is for the very best of each person, not to trap them or trick them, but to help them heal. So for the abused, it will mean empowering them with the ability to say "no." It will mean re-framing their religious obligations to "forgive." It includes safety and boundaries and self-care. And perhaps one day, it includes the hopeful possibility of reconciliation, whether on this side of life or the other.