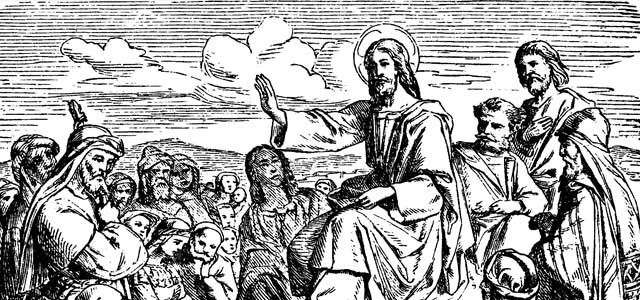 I have a huge interest in homiletics, the art of preparing and delivering sermons. I've read dozens of books on the subject, written a lot on it, and trained a lot of preachers in the past decade, not to mention having taken a number of courses in my undergrad and graduate studies. I love to sit and geek out about homiletical theory and to develop sermons with friends and fellow pastors and to discuss methodology.
What's fascinating about most Evangelical homiletics is the variety of opinions on the types of sermons that must be delivered. According to many scholars, there are essentially three "classic" types of sermons:
Topical sermons.
Textual sermons.
Expository sermons.
Topical sermons are those that address a specific topic in Scripture and are often an overview of what the Bible says about a given subject. Textual sermons are unique in that they cover a verse or a couple of verses out of a larger paragraph and can focus on details related to specific sentences or ideas that are found within a larger passage of Scripture. Expository sermons are those that are based on a passage of Scripture and allow the flow of the passage's argument to control the sermons subject matter.
Throughout church history, preachers have used all of these types of sermons and advocates of each approach have championed their method above others. In recent years, there has been a lot of emphasis on the necessity of expository preaching over and above other types of sermons.
Interestingly, Jesus didn't preach many expository sermons. 
In fact I think it's possible to argue that none of the recorded sermons in the Gospels are what can be described as expository sermons. As Kenny Burchard has argued, "No, expository preaching isn't biblical" (Kenny still thinks people should learn how to do it and that it's a great model).
My point here is that anyone who attempts to prioritize expository preaching as the model for "biblical" preaching can't actually use the Bible to support their view. So when I'm told that the only truly biblical type of preaching is "verse by verse," I somewhat chuckle to myself because I realize that the person making that statement hasn't seemed to actually run their opinion through a biblical-theological grid. Even if we consider the preaching in the book of Acts, we find that there are a number of types of sermons, as I wrote about in "The Types of Sermons in the Book of Acts." In Acts, we have the following types of sermons:
The Paraenetic Sermons.
The Missionary Sermons.
The Apologetic Sermons.
Surprisingly, few of them quality as classic "expository" preaching.
Don't get me wrong. I think expository preaching has a place and I have preached hundreds of expository sermons over the years as I've preached through books of the Bible. But in today's cultural landscape, I think that we need to seriously consider the value of narrative preaching in our quest to effectively preach Christ and communicate a biblical-theological approach to life. By the way, Calvin Miller's book, Preaching: The Art of Narrative Exposition is hands down the best book on narrative preaching, so get it.
Stories have a way of connecting with people in a much more memorable and transformative way. The five point exegetical sermons that we used to hear appear to often have no "soul" and few "windows" for listeners to peak into. Narrative preaching, when deeply rooted in a biblical-theological foundation, is far more effective. After all, it's not that churches need to move away from preaching from the Bible, as Zach Eswine well argues in Preaching to a Post-Everything World; we just need to think about preaching as missionaries (a significant part of Eswine's point).
So if we need to preach as missionaries, our time needs to be spent both exegeting Scripture and exegeting culture. I'm convinced that expository sermons that spend twenty minutes on parsing Greek words and/or focused on lexical and socio-rhetorical aspects of the biblical passage simply don't connect with people. This isn't to suggest at all an anti-intellectual spirituality or that scholarly work isn't important. It is. But it's not always the best use of your time on a Sunday morning to talk about exegetical details simply because it makes you sound smart.
Been there. Done that.
The challenge, to be honest, is that many preachers are unaware of the significant shifts that have taken place in our society. Not only have we made huge moves on an epistemological level, we've also seen a huge transition related to how we consume media. Being unaware of these shifts leaves a huge gap in a lot of preaching… preaching that just simply doesn't connect. But, as Scott Gibson writes in Preaching to a Shifting Culture, "preachers have choices to make: engage the culture, ignore the culture, capitulate to the culture, or even challenge it." I think Lesslie Newbigin winsomely challenged the church to engage and challenge culture in his widely read The Gospel in a Pluralist Society, so it does not help anyone to ignore the shift that has taken place.
The Homiletics of Jesus
So what type of preaching did Jesus do? And perhaps another good question is what type of preaching did the apostles do?
Again, I think to suggest that one model of homiletics is better than others is to miss the narrative theology of the Gospels and Acts. It would appear that the best type of preaching was what that specific situation, context, culture, or people needed to hear!
But clearly the most common type of preaching that Jesus did was narrative… he told stories or parables. He also did a fair amount of topical sermons (e.g., the Sermon on the Mount). And Jesus did sermons that would fall into the textual sermon method, commenting on a verse here and there from the Old Testament (e.g., Matt. 22:36-40).
I think Jesus' homiletics was the type of preaching that helps people understand their need for God and his great love for them. I think Jesus' type of preaching is centered on the in-breaking of the kingdom of God and leans into the empowerment of the Holy Spirit. Jesus' type of preaching connects with people because it is real, authentic, and earthly… full of stories that people can relate too. Jesus' type of preaching is robustly biblical and theological, even if it doesn't include proof text bible verses. In fact, did you know that the only reasons why anyone would ever sit there and read off a whole list of biblical references after making a statement was to impress other Christians or make themselves appear to be really smart? Who actually writes those fifteen references down and then checks them to determine if they are being correctly interpreted? But I digress…
Jesus' homiletics was vulnerable and yet transcendent because it looked up and had hope. Jesus' type of preaching was… well… not quite what a lot of people think all preaching should be. Jesus' sermons would actually fail the standards, guidelines, and methods that many seminary courses on homiletics have. Therefore, a thoughtful question is (and one that we should seriously engage), if Jesus and the apostles did or didn't do something… should we?
This article originally appeared here, and is used by permission.