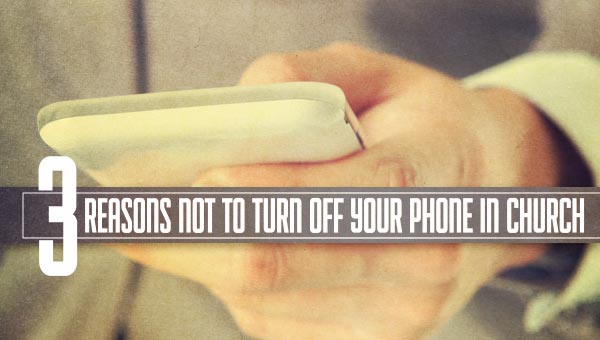 OK, the title may have just been meant to get your attention, but there are a few great things we can do if we don't turn off our cell phone in church.
Don't forget, our electronic devices are tools. We should never let them become distractions or detractors, but they can be useful.
Here are three things to do with your smartphone while you're sitting in church this Sunday …
1. Follow along with Scripture.
I honestly rarely pick up a Bible anymore. I read during my mornings with God, study for sermons and research for writing with electronic Bibles. I recommend this by the way. In church, electronic Bibles allow for quick finds and less distraction if the message is switching between Bible passages. Seriously, silence your phone, but use it to read along as well.
2. Social share.
As a church leader and the manager of a church's social media, I love when people Facebook, tweet or instagram parts of the service. Sure, there are times when I would consider it inappropriate to be sending an update, but for the most part, I think it's a great way to spread the Word and the word about what the church is up to. Again, be sure it's on silent and you're not distracting those around you, but go ahead and share away. Chances are, you'll remember even better what you tweet and what you don't. I think we're conditioned much of the time to be able to type out a short message and continuing listening as well. Use it and share what's going on.
3. Take sermon notes.
You could take your collection of status updates and copy them into a note taking service like Evernote or Simplenote, but you could also just take electronic notes. I love when people take notes when I'm speaking. It helps them stay engaged and concentrated on what's being said. I have an Evernote notebook called "taking notes" for stuff just like this.
OK, those are my three. Any you would add? Should we turn our phones off in church instead?